Wednesday, August 9, 2017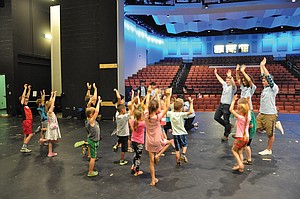 INDEPENDENCE — This week at Central High School, the Little Actors Acting Camp is taking center stage.
Founded last year by CHS thespian Matisyn Robischon, the camp began as a fundraiser for the CHS Thespians, but has evolved into something more.
"I thought, 'oh, we can do this camp and it'll be super fun, and the volunteers would learn something,' because we were working on getting our thespian troop closer together," Robischon explained. "I wanted to originally make it a community kind of thing and ended up raising absolutely no money. And that's when I realized that I didn't necessarily do it about the money."
The camp has more than 60 little actors ranging from 4 to 13 years old attending this year, which is triple the size of last year. Luckily, the camp has a large pool of volunteers running it — all high school thespians, of course.
"All of these individuals are volunteering their time to teach younger generations about theater," Robischon said. "I did it on a volunteer basis because I wanted everyone that's here to want to be here as much I want to be here and want it to work out."
The camp teaches the actors fundamental skills — like memorization, teamwork and taking direction — which are necessary for theater, through games and fun activities. For example, in one activity, the group leader built a structure out of building blocks and allowed the group to study it for 30 seconds. After the 30 seconds were up, the structure was knocked down and the group had to work together to rebuild it from memory.
Robischon's mission for the camp is to expose as many young children to theater as she can.
"I think that everyone should have the chance of getting a taste of theater — even if you don't end up liking it or it's just not your thing, I believe everyone should give it a try," Robischon said. "I believe that you can't be too young to enjoy theater."
On Friday, Aug. 11, at the little actors will put on a performance which they have prepared throughout the week.
Curtain will open at 12:30 p.m. in the CHS Auditorium, and is free to attend, and open to the public.