Wednesday, August 16, 2017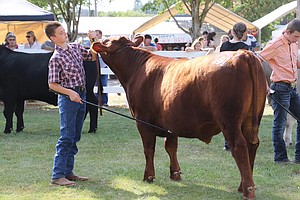 RICKREALL — On the outside, Owen Jones looked calm, cool and collected.
He was moments away from leading his steer into the 4-H and FFA Youth Market Auction during the Polk County Fair on Saturday afternoon.
Jones, 11, is in his third year with 4-H, but this was his first time bringing a steer to auction.
Although he has been through the auction process before, auction day still left Jones with a mix of emotions ranging from happiness to an almost sense of dread of what was to come.
"It's really sad," Jones said. "You can do all you want to prepare, but it doesn't really help."
Jones spent hours each day grooming his steer.
During the months of preparation, Jones said you connect with your animal — even when things aren't so easy.
"I like working with cows, even though sometimes it feels like I don't," Jones said. "Sometimes, when they don't want to listen to you and start running you over it's hard, but overall, it's fun."
Those struggles have served a higher purpose, Jones said.
"It teaches you a lot of patience and to be able to stay calm in stressful situations," he said.
While this was a moment to shine, it was also a moment that signaled what was to come — mainly Jones' steer going to a slaughterhouse.
And, despite the smile he put on, Jones couldn't help but let his sadness show through.
"It's hard (to have to say goodbye)," he said.
But the auction was also a proud moment, especially for Owen's mother, Michelle.
"He's learned responsibility and how to take ownership of something," she said. "He spent three or four hours a day cleaning, feeding and taking care of the steer. The ownership you get from that is something I don't think a lot of kids his age have."
Despite the bittersweet afternoon, Owen said he wouldn't trade his experience for anything.
"If people are thinking of joining 4-H, they should because it's really fun," he said.