Wednesday, August 16, 2017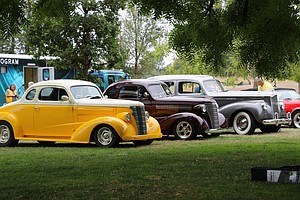 Annual Pioneer Loop picnic set
The 86th annual Pioneer Loop picnic will be held Thursday at 6 p.m. at Dallas City Park at the Siebert/ Fredrickson shelter.
All current and former residents of Pioneer and Reuben Boise roads are invited to attend.
Attendees are asked to bring a main dish and a side dish or dessert.
For more information: Kris Golly, 503-623-8735 or Christina Latham-Brown, 503-623-3923.
Community Choir seeks members
A community choir will begin practicing arrangements of Christmas carols for four free concerts in December.
An interest meeting will be held Sept. 6 at 6:30 p.m. at Valley Life Center, 1795 SE Miller Ave., Dallas.
Rehearsals will be held Wednesdays from 6:30 to 7:30 p.m.
For more information: Valley Life Center, 503-623-4116.
River Gallery seeks artist submissions
The River Gallery, 184 S. Main St., Independence, is seeking artist submissions for Local Waters, a show that will run Oct. 3 - Nov. 3.
Local Waters will be a juried show of 2 and 3-dimensional art work that expresses the diversity of the streams and wetlands, and their connection to the richness and abundance of wildlife and the landscape.
Submissions are due by Aug. 25.
Images must be submitted by email to Rglocalwaters@gmail.com with a high-resolution jpeg image.
Each piece must be labeled with artist's name, title of work, size of work, medium and price.
Also include email address and phone number. All work must be for sale and ready to display.
There is a $25 jury fee for up to three pieces by an individual artist.
For more information: River Gallery, 503-838-6171.
Thirsty Thursday returns to Emerson
The Monmouth-Independence Chamber of Commerce's Thirsty Thursday event heads to Emerson Vineyards, 11665 Airlie Road, Monmouth, from 5:30 to 7 p.m.
Chamber members and friends are invited to attend the networking session and have a chance to promote your business, learn about the host site and enter to win giveaways.
Refreshments will be served.
Registration is requested to help the host site properly prepare. There is no cost to attend. Attendees are encouraged to bring a small giveaway (less than $10).
For more information: www.micc-or.org.