Wednesday, August 16, 2017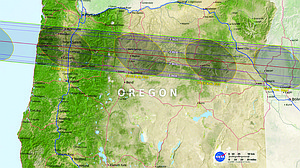 Dallas goes big on eclipse celebration in the square
Dallas Eclipse Celebration on the Square will be Friday through Monday, packed with food carts, artisan vendors, live music, and a beer and wine garden.
Live music in the Square
Friday, Aug. 18
7 p.m. – All Fired Up (Pat Benatar tribute band)
8 p.m. – Shooting Star (Bad Company tribute band)
9 p.m. – Barracuda (Heart tribute band)
Saturday, Aug. 19
11 a.m. – 1 p.m. – The Big Time
2-4 p.m. – Halston
8 p.m. – Pigs on the Wing (Pink Floyd tribute band)
Sunday, Aug. 20
10 a.m.-noon – Edge
1-3 p.m. – Kurt Van Meter
4:30-5:30 p.m. – Nathan Meyers
7 p.m. – Jukebox Heroes (Foreigner tribute band)
8 p.m. – Steelhorse (Bon Jovi tribute band)
Monday, Aug. 21
9-10 a.m. – Jan Looking Wolfs Band of Brothers (from the rooftop of Pressed Coffee & Wine Bar)
Streets will be closed from 8 a.m. on Friday through 5 p.m. on Monday. Business owners and their employees who will be open downtown during that weekend can reserve a parking pass to access their operations.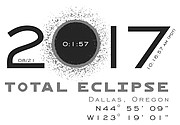 The kick off party starts at 5 p.m. Friday. Saturday, the festival opens at 10 a.m. A Dallas, Oregon Recreation inc. Disc Golf Tournament will begin at 10 a.m. at Dallas City Park, while historic walking tours will be ongoing throughout the weekend. Various astronomical speakers will present at Dallas Cinema from 10 a.m. to 4 p.m., with a special eclipse movie at 1 p.m. on both Aug. 19 and 20.
Amore Dance Studio will have classes on the square from 4 to 10:30 p.m. Street performers will be found throughout the day, as will an opportunity to play with 3-D chalk art. Bounce houses will be open for the kids from 10 a.m. to 6 p.m.
On Sunday, the festival opens at 10 a.m. Dallas Family Night Out 5K fun run will start in Dallas City Park at 6:30 p.m.
Monday, Jan Looking Wolf's Band of Brothers will play from the rooftop of Pressed Coffee & Wine Bar from 9 to 10 a.m.
No vendors are allowed to open until after the eclipse is completed. Bounce houses will reopen at about 10:30, after the eclipse, and stay open until 2 p.m. The beer and wine garden will open from 11 a.m. to 2 p.m., and vendors may stay open from 10:30 a.m. to 2 p.m.
All events planned for Dallas Eclipse Celebration on the Square are free. For more information or to request parking passes for local businesses: Emma Guida, emmagdda@gmail.com.
Indy Goes Dark kicks off Thursday with movie in park
Independence knows how to throw a party. City officials didn't want to miss out on the once-in-a-lifetime chance to throw the biggest bash they could organize for the Great American Eclipse, Indy Goes Dark.
Indy Goes Dark live music
Friday, Aug. 18
8:30-10 p.m. – Aeromyth Pump (Aerosmith tribute band)
Saturday, Aug. 19
Noon-3:30 p.m. – Beth Willis
5:30-7:30 p.m. – Around the Bend
8:30-10 p.m. – Pyromania
Sunday, Aug. 20
Noon-2 p.m. – TBA
5-7 p.m. – The June Bugs
7:30-9:30 p.m. Infamous Souls
Monday, Aug. 21
10:30 a.m. – 12:30 p.m. – Idol Poets
The party starts Thursday at 8 p.m. with a showing of "Star Trek: Into Darkness," at the Riverview Park Amphitheater. Camping check-in runs from 3 to 9 p.m.
Friday, campers may check-in from 9 a.m. to 9 p.m. Live music will begin at 8:30 p.m. featuring Aeromyth Pump, an Aerosmith tribute band.
With a new moon and dark skies, telescopes will be provided Friday, Saturday and Sunday for stargazing in the park.
Saturday, Indy Goes Dark kicks into full swing at noon with a plethora of food trucks, Les Schwab's Kids Zone tent, more live music, and the WOLF Zone, Western Oregon University learning fun zone.
At 10:30 a.m., the Total Eclipse of the Heart 5K fun run will begin at Riverview Park. Race proceeds will be used to support the placement of automated external defibrillators in critical locations throughout Monmouth and Independence. For more information about the run: Eventbrite.com.
The Brew Fest opens at 12:30 p.m. Admission is $15 and includes a souvenir mug.
From 3:30 to 4:30 p.m., the Oregon Museum of Science Institute's "Gollyologist" will present.
In true Independence style, fireworks will light the night sky at 10 p.m.
Sunday, start the morning out early with yoga in the park at 7 a.m., or, if you want to sleep in a bit more, at 9:30 a.m. Then hop on your bike for a Bike Indy ride from 9 a.m. to noon, organized by the Salem Bicycle Club.
The gates of the festival open again at noon, as well as the beer garden. From 3 to 4 p.m., see a presentation by the University of Oregon Physics Ringmaster. At 5, 6 and 7 p.m., Independence Ghost Walk founder Marilyn Morton and Vikkye Fetters will host a special edition of the walk, benefiting the Independence Downtown Association. Cost will be $10 per person for this exclusive tour.
Fireworks will be shot off at 9:45 p.m., followed again by stargazing opportunities.
Monday, have breakfast in the park — order something to go from one of the local restaurants and grab your seat for the big event.
Melinda Shimizu, a Western Oregon University professor in the Department of Earth and Physical Science, will speak about the eclipse at 8:45 a.m.
Live music will resume at 10:30 a.m., and food trucks will open at 11.
Falls City opens for campers, eclipse celebrations
Want to get a little further away from the crowds for the Great American Eclipse?
Falls City has your answer.
Camping is $50 per night in George Kitchen Park, also known as Upper Park. For $200 you can camp the entire weekend, including Monday night.
And there's plenty to do when not observing the eclipse on Monday morning.

Activities include horseshoes in the Upper Park, basketball in the Lower Park, swimming in the Little Luckiamute river and waterfall, Saturday night karaoke and billiards at The Boondocks.
The Falls City Historic Landmarks Commission is in the process of restoring the town's old jail, nicknamed "The Pink Pokey," and will be selling "mug shots" in the jail as a fundraiser during eclipse events. To reserve your mug shot, call Mike McConnell, 1-503-507-0425.
The day of the eclipse, The Boondocks is having breakfast from 7 to 9:30 a.m., with live music up until the moment of the eclipse. Eclipse viewing glasses and souvenir eclipse tee shirts are available.
Make reservation at eclipsepartyfallscity@gmail.com, or message on Facebook at Solar Eclipse Falls City, Oregon.
Willamina, community college to host events on eclipse day
Not to be left out of the Great American Eclipse festivities, the West Valley Community Campus in Willamina is offering tent and dry camping for recreational vehicles Saturday and Sunday, Aug. 19 and 20.
Saturday evening, Second Winds String Band will play in the school's auditorium. Sunday, West Valley Shakers will perform.
Beer, wine and food will be for sale during the live concerts. Organizers suggest bringing a bicycle to get around downtown Willamina and enjoy all the town has to offer, including dining, cute shops, and a farmers market on Sunday, Aug. 20, at 3 p.m. A shuttle service will take visitors to Bare Farms for tours.
Eclipse viewing glasses will be for sale at the campus for Monday's big event.
For more information: info@westvalleycommunitycampus.org.
Follow the Itemizer online at www.polkio.com for stories and photos. Share your photos with the I-O using the hashtags #PathofTotality and #OREclipse2017.