Wednesday, August 16, 2017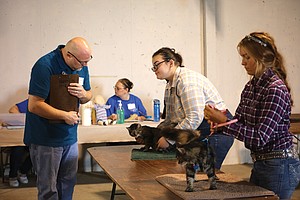 RICKREALL — Rose started out a stray cat, heading toward being euthanized, when she found Tiffany Clark's family.
"She kind of adopted our family," said Clark, 17. "So now she's my cat, and she's really fun to have around."
Clark, an experienced showman when it comes to dairy goats, market lambs, rabbits and poultry, was talked into showing Rose at the Polk County Fair's cat show. She got reserve champion for her mink coon kitty, Rose.
Not bad for a stray, and Clark's first time showing cats.
Monica Szczepanski, 17, won grand champion showing her cat, Snickers.
"Having a good connection with your cat is first of all," she said. "I got my cat when she was about 7 weeks old, and she's been my favorite cat ever since. She's one of the sweetest cats I've ever had. She's always wanting love, no matter what. She's never been mean at all."
Getting the cat to trust you is also important, Szczepanski said.
"She has a good connection with me," she said.
This was also Szczepanski's first year showing cats, but her older siblings had shown cats for years, so helped her with tips.
Molly Burger, 14, won intermediate champion with her cat, Hobbs.
She agrees that trust is No. 1 in showing cats.
"He has to be in really good health," she added. "He has to be groomed, free of parasites. You have to make sure your cat isn't too creeped out or he could injure himself — or you."
Burger has no problems manhandling Hobbs.
"He's very relaxed," she said. "I can do almost anything with him. He's very lovey and really playful."
Clark noted that the cat's temperament matters when it comes to showing felines.
"With (Rose), she's not around other cats, so being around the other cats on the show table was a little nervous for her, so she was hissing, but she kept herself really collected under the pressure," Clark said. "Her harness, she doesn't like either, so she was trying to step out of it."
The relationship Clark has built with Rose enabled Clark to help calm the kitty, she said.
"If your animal gets too stressed, if you hold them, your heartbeat against them will calm them," Clark said. "When (Rose) starts purring, that's how I know she's relaxed."
Purring isn't always a sign of a relaxed cat.
Virginia Anderson, 12, struggled to get her black and white tuxedo cat, Druzy, to behave on the show table.
"She purrs and meows at the same time," Anderson said, holding Druzy close between competitions.