Wednesday, August 23, 2017
Weston and Jeanne Gray were married Aug. 23, 1952, in Des Plaines, Illinois.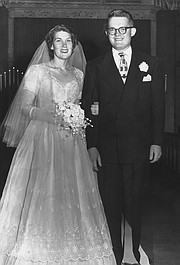 Weston served as a Presbyterian minister in Minnesota, Arizona, New Zealand, California, and Idaho until he retired in 1994.
Jeanne was a chemist and home maker.
They chose to retire in Dallas, and have lived here 23 years. They quickly became active in volunteer activities both in their church, First Presbyterian, and the community. Weston volunteered in the Boy Scouts, Kiwanis Club, Lion's Club, Meals on Wheels, and the American Red Cross. They both helped out at Dallas Food Bank, as reading buddies, and in the their church in many different capacities. They were honored as the Volunteer Couple of the Year in Dallas. They enjoy bird watching, camping, travelling and the beach.
Weston was an avid fisherman, and Jeanne enjoyed knitting, sewing and cooking. They have three children. John and his wife, LaRae, live in McGrath, Alaska. Their daughter Kathy and Dave Dohner live in Fairbanks, Alaska. Their son, Larry and his wife, Vonnie, live in Beatty, Nevada.
They also have four grandchildren in Alaska and Nevada. They live at Dallas Retirement Village — Weston in Assisted Living and Jeanne in Memory Care.
They celebrated 65 years together on Aug. 13, 2017, with an after-church party with out-of-town relatives (Weston's sister, Janice McKee from Texas, her son, wife and their daughter from Illinois, and Weston's brother Bill and his wife from Chiloquin, as well as their daughter from Alaska) and their church family.