Wednesday, August 23, 2017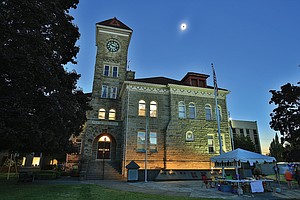 DALLAS — At about 9:25 a.m., Lisa Hoople looked up at the sun shortly after the Great American Eclipse began at Illahe Vineyards in Dallas.
"It's starting to really shape up as the moon now," she said.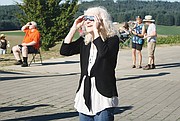 Hoople, from Portland, watched the eclipse with her husband, James Hoople, and Carrie De Graaf, who visited them from Michigan just for this occasion.
They had planned ahead. They even made a dry run of their drive from Portland on all back roads to get to the vineyard in case of bad traffic. It took two hours, so they stayed for a wine tasting after route testing and made a connection with Illahe's tasting room manager Kathy Greysmith.
"She was pouring for us and we had a blast," James Hoople said. "We fell in love with this place right then and there."
Monday, the three of them were ready to finally experience the event they had been looking forward to for so long.
James Hoople has been talking and thinking about it for two years. He considered it an item on his bucket list, and the day seemed almost spiritual for him.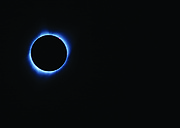 De Graaf also had been planning for two years to view the eclipse in the path of totality. In her home state, the view would be only 75 to 80 percent.
Monday, she soaked up as much of it as she could. She leaned back in her chair with her solar glasses on and just watched.
"I'm comfortable and my head is in the right spot," she said.
When the eclipse was at 75 percent, she said: "This is what it's going to be like at home."
Greysmith witnessed the 1979 eclipse, but could only experience it through a pinhole projector.
She squealed with glee when she put on a pair of viewing glasses at the beginning of the eclipse.
Later, as totality approached, she emerged from the tasting room, glasses in hand saying for everyone to hear, "It's going to happen!"
The air cooled — temperatures dropped 20 degrees by totality — as the sky got darker. People pointed to Venus as it emerged bright in the sky.
Totality brought a round of applause from watchers at the vineyard.
"It was everything they said it was going to be," De Graaf said.
The experience brought James Hoople to tears, marveling at the rareness of the event and having been at the right place and time to see it.
"I have a very short bucket list, and seeing the eclipse was on it," he said. "To see something like that, it took my breath away."
After totality, Greysmith laughed at her reaction, saying: "I'm still a child at heart."
Still, she said seeing the moon block out the sun was momentous.
"I don't have any words that are beyond what anybody else has said," she said, pausing. "It's beyond words. I was just so excited inside. A great event in my lifetime."
Around 10:45 a.m., people began to make plans to head home, but Lisa Hoople and De Graaf were still watching the second half of the eclipse.
"It's an eyebrow now," De Graaf said describing the shape of the sun.
"Or a frown," Lisa Hoople said.
"No. It's an eyebrow," De Graaf said. "There are no frowns today."