Wednesday, August 23, 2017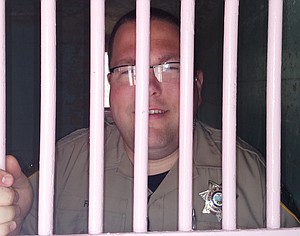 FALLS CITY — Mike McConnell wants to put Falls City Mayor Terry Ungricht in jail. While he's at it, maybe all three Polk County Commissioners, and his ultimate "prison guest": Gov. Kate Brown.
Not for the reason you think — it's to help restore some of the town's history. McConnell is the chairman of the Falls City Historic Landmarks Commission, the organization hard at work restoring the old city jail near Falls City City Hall.
The idea is to "jail" people and raise money to bail them out as a fundraiser. Other potential "inmates" are Sheriff Mark Garton, state senators and representatives.
McConnell made his intentions known when leaving a message for Garton about the project.
"I said: 'Hey, I've been trying to get a hold of you. I want to throw you in jail,'" he said.
All proceeds will go toward finishing the restoration, which includes putting a new roof on the two-cell jail nicknamed "The Pink Pokey" for its distinctive pink hue.
McConnell said there's a reason for that. Studies indicate pink is a calming color and was often used in prisons and mental health institutions.
The original color was more salmon than the "Pepto-Bismol" pink McConnell and company repainted the inside over the last two weeks.
In addition, the commission wants to turn one of the cells into a museum of the jail's history while keeping the other as it would have been used when it was open.
McConnell said the project got an unexpected assist from Marion County. He was making phone calls trying to find authentic jail bedding and was met with an enthusiastic "yes" from Kevin Schultz, the commander of Marion County Jails.
Turns out Schultz spent part of his childhood in Falls City, from 1966 to 1977, and was so interested in helping that he drove out to Falls City the same day that McConnell called.
Schultz had what was needed: old mattresses, pillows and wool blankets. He even offered to show McConnell how to make up the beds the way it is done in jails.
"Anything I can do to help that community," Schultz said. "We had some older stuff laying around. It was the right time and the right connection. It was a no-brainer for me."
Schultz said when he lived in Falls City, it was still a thriving timber town where people kept their doors unlocked and kids could use half the town as hide-and-go-seek territory.
"I've got a real soft spot for that little town," he said. "I have a lot of fond memories; that's my motivation."
Schultz said he would be willing to be "jailed" as part of a fundraiser.
Businesses in town have volunteered to help, too. The Boondocks and The Bread Board pledged to prepare meals for another of McConnell's ideas — a fundraiser allowing people to have a meal in the jail. You can also pay to turn a friend into an inmate, McConnell said.
The commission needs more information about the jail's history and when it was built. It closed in 1962, but the rest of the timeline is hazy.
McConnell said Schultz speculated that it could have been built in the 1920s, based on the construction and type of locks it used, but that is just a guess.
The commission has some photos, old uniforms and uniform patches. Some of the photos show the bell, now in front of the Community Center, when it was part of the jail.
"We are looking for stuff from the era of this jail restoration, if anybody out there used to live in Falls City or has pictures of the jail or pictures of the city hall and this area. The pictures we've run across, uh, not so much," McConnell said. "When I quiz older folks, the only story I get is kids climbing up, ringing the bell and running. That was supposed to be the bell that alerted the town that something was going on."
McConnell said he found out who the last two prisoners were — and one still has a connection to the town — but hopes others will step forward with information or artifacts.
"The last inmate of the jail was 'Warrington' or 'Harrington,'" he said. "The second to the last was Bill Williams, and his wife still lives here in town."
Those with information or artifacts from the jail, or who would like to participate in a fundraiser, calll McConnell at 503-507-0425.