Wednesday, August 23, 2017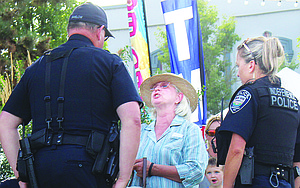 POLK COUNTY — While the weekend was packed with live concerts, street performers, food trucks, beer and wine gardens, culminating in the big event — the Great American Eclipse — for law enforcement, it was mostly business as usual.
Sheriff Mark Garton credited that to the communication between agencies prior to the event.
"If we didn't plan well enough, it could have gone really bad," Garton said. "Everyone was really guessing in our planning stages. A good thing is all the different agencies — public safety, the hospital, vineyards, the farming community — we had meetings often for the last six to eight months."
Dallas saw a few incidents, said Dallas Police Lt. Jerry Mott.
"We had one significant domestic violence incident involving a gun where the suspect fought police," Mott said. "He had been drinking and carrying the gun concealed at the event downtown, but the actual call and arrest came after he drank some more at home."
A couple people were warned about using marijuana in public. Others were encouraged to leave the event safely when they were intoxicated and becoming disorderly. A few people were arrested for driving under the influence of intoxicants, but Mott said those were not necessarily related to the Dallas Eclipse Celebration on the Square.
"We had an unconfirmed report of men urinating on a business across from a bar and exposing (themselves) to passing females," Mott said. "No urine was present when officers arrived. No one exposing themselves, either."
Some girls found a "significant amount of money" and turned it into police, Mott said.
"If the owner isn't found, they will get to keep it," he said.
At one point, officers left the event in downtown to look for a small child who went missing, Mott said.
"An officer found him sleeping in a closet at home," he said.
Overall, Mott said the incidents encountered over the weekend were "not a lot of problems."
"Our folks in town were really fantastic for this event," he said. "Our visitors were pretty good as well. I could not tell you how many more people came to town, but I know there were folks visiting from Asia as well as the United Kingdom represented, along with people from all over the U.S."
Mott said one lesson learned during the event was a designated lost-and-found location and management system.
"I didn't even think of it until we needed it," he said.
Garton said that while his department responded to incidents over the weekend, they weren't anything major or out of the ordinary.
Independence Police Sgt. Juventino Banuelos Jr. echoed those remarks in Independence.
"It was rather uneventful for police," he said, adding that the weekend provided an opportunity to prepare for an event in which outside help may not be available.
"Traditionally, (with) our planned events, such as our Fourth of July celebration, we're able to ask for assistance from nearby agencies in advance," Banuelos said. "In a case like this, other agencies are having to tend to their own events."
Because of the unknowns surrounding the eclipse – how many people would come, where they would be from, how bad traffic would be — the logistics in planning a response was tricky, Banuelos said.
"We ended up being prepared for a larger crowd than actually attended," he said. "I would prefer that to being underprepared any day."
Monmouth also reported no major incidents.
"I thought it went very well," Monmouth Police Chief Darrell Tallan said. "We were actually a little slower and quieter on Friday and Saturday — more so than usual. We actually had a noticeably lower traffic volume."
Most of the people who stayed in Monmouth camped at Western Oregon University or stayed in the dorm rooms there, Tallan said.
"Saturday evening, we started to see more people walking downtown and visiting," he said. "Sunday, more arrived and were walking in the downtown area, and eating in local restaurants. And then Sunday evening we had our concert in the park. That was a nice event. It went off really well."
April Welsh, spokeswoman for Dallas Fire & EMS, reported for Dallas and for Polk County Fire District No. 1 and Southwest Fire District.
"I would say it went exceptional," Welsh said. "Even with the influx of people we had in town, everything went as smooth as we could have possibly imagined."
Dallas firefighters and paramedics responded to a roll-over crash on Saturday that inadvertently caused a field fire, Welsh said, but no one was transported to the hospital as a result, and the field fire was extinguished in minutes.
"Our volunteers were here all weekend," Welsh said. "They were prepared for anything that was going to get thrown our way."
Garton said the connections made to prepare for this event are invaluable.
"Not that we have to have meetings every two weeks, but I think we learned a lot about each other and the organizations that we represent," Garton said. "Those relationships will be good going forward. It's only going to help us going forward, whatever we do — big or small."