Wednesday, August 30, 2017
Dennis and Linda Parker will celebrate their 50th wedding anniversary on Sept. 1, 2017.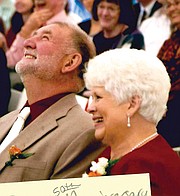 On Sept. 2 at 2 p.m., there will be an anniversary party in their honor at the First Christian Church in Salem.
Dennis Parker spent 30 years in the Dallas School District teaching seventh-grade science. One of the classes he taught was required for all students, so if you went to school in Dallas between 1968 and 1998, you probably had Mr. Parker as a teacher.
Dennis also is the owner of Dennis Parker Logging.
Linda Parker is an accomplished musician, playing piano and various percussion instruments, and spent much of her husband's teaching career also in the Dallas School District, most notably with the DHS band. Linda has been honored with the Dallas Chamber of Commerce Good Samaritan Award. She was an active volunteer in the band program, and is still active in playing the piano for her church and with her family.