Wednesday, August 30, 2017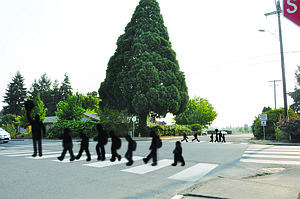 MONMOUTH — Paul Sieber, a resident of Monmouth for longer than four decades, is looking for a change in his neighborhood.
Nine years ago, Sieber was serving on Monmouth's Traffic Safety Commission.
He submitted a request to the commission, asking that the streets and sidewalks around Monmouth Elementary School be improved for the safety of the students who commute to school by walking and biking.
"You have to understand that there are (more than 500) students at MES, they all arrive basically through that intersection, and they don't come alone, they come with their parents and their cars, all the buses come through there, garbage trucks, milk delivery trucks all come through that intersection," Sieber said. "The street between Sacre and 99 is three blocks, and a lot of kids are coming on bikes, and there's no bike lane, no guidance to tell them or show them where they should be."
The request — which called for raised crosswalks at the intersection of Church Street and Sacre Lane, the relocation of speed signs to "effective distances" from the intersection, and the installation of bike lanes and school zone or school crossing signs — was not pursued by the commission.
Now, after nearly a decade, Sieber has directed his request to the city council — more specifically, to councilor Laurel Sharmer.
In an email response to Sieber's request, Sharmer claimed, "If nothing is done about this I guarantee there will be campaign signs around town next year that say, 'Safety for MES Students! (insert name) for Monmouth City Council.' And we will throw the bums out."
Sharmer read Sieber's emailed request during the citizen comments section of the Aug. 15 Monmouth City Council meeting.
The council then passed Sharmer's motion to direct city staff to prepare a report describing how to maximize pedestrian and bicyclist safety near MES, as well as a budget for those changes, with a 4-1 vote.
Sieber requested to be added to the group preparing the report as a citizen advisor, but was denied admission due to the council's decision to "bypass any citizen advisory group participation at this time," as Public Works Director Russ Cooper, the leader of the staff group filing the requested report, explained to Sieber via email.
Sharmer then wrote an email to Cooper and Sieber, endorsing Sieber's request to join the group.
The email was copied to Councilor Royal Johnson, City Manager Scott McClure and Emily Mentzer, editor of the Itemizer-Observer.
In the email, Sharmer seemed to speak for the council, claiming that where the funding for this project would come from was not the information the council was after: "In the report we do not want information about how such improvements will be paid for. There is no need to describe how the library will have to close for an additional day each week or the senior center's meals program will have to be cut to pay for such costs. And I, for one, do not want the spectacle of a city department head describing to the council how his elderly neighbor depends on the library and the senior center and how devastating it will be for her if those departments have to be cut to pay for bike lanes on Church Street."
Bike lanes could cause a major traffic problem in the neighborhood because it would eliminate legal street parking which could lead to standstill traffic during drop-off and pick-up times, said John Oberst, former mayor of Monmouth and a resident of the school's neighborhood for nearly three decades.
"Monmouth has very wide residential streets — we don't have little 28-foot streets — so there's plenty of room for parking on both sides and two-lane traffic, but if you put in a bike lane, there's no more parking on either side of the street," Oberst said.
Oberst doesn't think that bike lanes are the solution to safety concerns about the Church and Sacre intersection.
"I'm not sure that bike lanes would really enhance it because the kids aren't really using the street right now," Oberst said. "If you really want to talk safety, you better be talking a separated bike lane, which I don't think the city staff would suggest, and I wouldn't see the council approving it."
Oberst added that he sees most kids walking and biking using the sidewalk on the north side of Church Street because of the south side's intermittent sidewalk.
"I think that we are doing the best we can with the situation provided," said MES Principal Kim Seidel. "We usually — not before school, but after school — we have four adults who are out in that intersectional making sure children are safely getting across."
Seidel acknowledged the congestion of the area, but said that she had not received any safety complaints from parents. Parent-Teacher Association president Ashley Schaumburgh said she hadn't heard any concerns about the intersection from parents either.
The Monmouth Police Department reports no car accidents, near misses or speeding and "failure to stop" citations issued at Church and Sacre in the last 10 years. Still, Seiber said that living at the intersection makes him "the person most involved and knowledgeable on the issue — on a daily basis," and hopes the council will follow through on his request this time around.
The report requested on Aug. 15 will be given Tuesday's city council's meeting, which starts at 7 p.m.
"I'm not sure (what the solution is besides building roads). My wife and I have considered moving because of the nonresponse," Seiber said. "If nothing is done, I'm not going to say a word again. Whatever they do, the people are going to have to live with."