Wednesday, December 27, 2017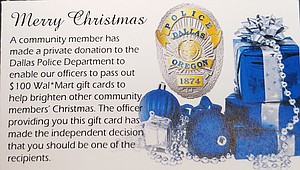 DALLAS — Thanks to an anonymous donation, the Dallas Police Department made Christmas a little merrier for 50 local families.
Inspired by a story about a donation made in another community, a member of a long-term Dallas family gave a $5,000 donation to the Dallas Police Department. The donor — who wished to remain anonymous — asked that the money be used to help families in need and distributed through Dallas police officers.
The donation was broken into $100 gift cards to Walmart. Dallas Police officers were given the cards and assigned the task of giving them to families or individuals who needed a little extra help. Officers began handing them out on Dec. 1. The last two were given away on Dec. 22.
"The donation from a family in our community was very generous and made a real difference for 50 families," Dallas Police Chief Tom Simpson said in a press release about the donation. "In addition, it was a fun and rewarding experience for our officers who very much appreciated the honor and opportunity to distribute the donor's gifts to various community members."
The giveaway was kept quiet until it was complete. Simpson issued a statement on Saturday about the donation and the impact it had.
"We would like to express our sincere thanks to our 'Secret Santa' who helped make this season a little brighter for several others," Simpson said. "I'll add my personal appreciation to our hard-working officers who enthusiastically took the extra time and effort to help make this a successful endeavor."
ODVA awards grant to universities
SALEM — The Oregon Department of Veterans' Affairs awarded grants totaling $1 million this week to expand campus veteran resource centers at 14 of Oregon's public universities and community colleges, including Western Oregon University.
The purpose of the Campus Veteran Resource Center Grant Program is to augment existing resources by funding innovative and impactful projects or programs.