Wednesday, February 8, 2017
DALLAS — The new face of the Dallas Area Visitors Center's programs and events isn't someone new at all.
Bonnie Dreier, who has worked for the chamber and visitors center since 2007, has taken over as the visitors center events and program manager. Dreier is the Polk County Bounty Market manager, but has helped organize all chamber and visitors center events for years.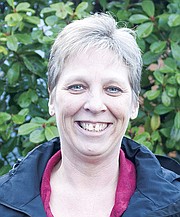 She moved to her new job in early January and has been busy setting up this years slate of events, including the Dallas Awards Celebration, Bounty Market, Freedomfest, Summerfest, Trick 'n' Treat and Winterfest. This year brings a unique opportunity in the Aug. 21 solar eclipse, and Dreier is working with businesses and organizations for Dallas' downtown party.
Dreier said so far, the step up has been a lot of work, but she's also found plenty of support.
"I've had lots of the people come and saying 'How we can help?'" she said.
JD Shinn, the Dallas Area Chamber's chief executive officer who promoted Dreier to the post, also hired a part-time administrative assistant, Ashley Kahl, to round out the organization's staff.
Dreier said Kahl, who started on Jan. 23, is helping with event coordination.
"She's been amazing," she said. "This place is being revitalized."
Shinn, who was brought on board in October, said the more he worked with Dreier, the more he knew she was the best person for the job.
"Bonnie has really stepped up a lot," he said. "I knew the potential was there … . She has continued to surprise herself and confirm what I saw in her."
Shinn said Kahl, as the most recent addition, is bringing more talent to the new team.
"They have so many strengths that I don't have," Shinn said. "I'm thrilled to have both of them on board."