Wednesday, February 8, 2017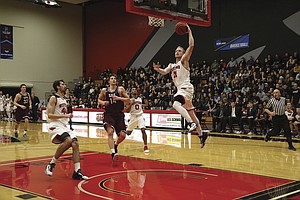 MONMOUTH — Western Oregon junior Tanner Omlid recorded a triple-double on Saturday, leading WOU's men's basketball team to an 84-70 win over Seattle Pacific.
Omlid recorded 18 points, 15 rebounds and 11 steals — a school record. It was the Wolves' first triple-double since 2003.
J.J. Chirnside scored a career-high 17 points, and Ali Faruq-Bey recorded 17 points, three rebounds, three assists and three steals.
Western Oregon also defeated Saint Martin's 82-73 on Thursday. Omlid scored a game-high 23 points and had five rebounds, six steals, three assists and two blocks. Demetrius Trammell added 16 points.
WOU (13-9 overall, 10-4 Great Northwest Athletic Conference) plays at Western Washington Thursday at 7 p.m. and at Simon Fraser Saturday at 7 p.m.
The Wolves entered the week in third place in the conference standings behind Western Washington and Alaska Anchorage.
WOMEN'S BASKETBALL DROPS TWO: Western Oregon's women's basketball team lost a pair of GNAC games last week. The Wolves fell to Alaska Fairbanks 79-65 on Thursday and Alaska Anchorage 91-50 on Saturday. Jasmine Miller led WOU against Alaska Fairbanks with 12 points and five rebounds. Sophomore Kaylie Boschma scored a team-high 17 points against Alaska Anchorage. The Wolves played Concordia Tuesday after press time. Western Oregon hosts Montana State Billings Thursday at 7 p.m.
SOFTBALL COMPETES IN LAS VEGAS: Western Oregon's softball team competed at the Desert Stinger Classic in Las Vegas. The Wolves opened the tournament with a pair of losses on Friday, falling to Azusa Pacific 3-1 and Chico State 7-4. WOU split its games on Saturday, earning its first win of the season in a 5-4 victory over Minot State before losing to Cal State San Bernardino 5-4. The Wolves closed the weekend with a 1-0 win over Cal State Monterey Bay on Sunday.
Ryanne Huffman and Ku'ulei Siolo each had two hits against Minot State. Zoe Clark hit an RBI groundout in the top of the fifth inning to score what turned out to be the game-winning run.
Huffman hit an RBI double in the first inning, while Ashlee Lynch hit a solo home run to get WOU on the board.
Against Cal State, Emma Alfonso hit a three-run home run to give WOU a 4-2 lead, but Cal State scored the final three runs of the game.
Western Oregon plays a doubleheader at Hawaii Pacific on Monday and at Chaminade on Feb. 15 in Honolulu.