Thursday, February 9, 2017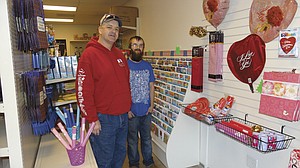 MONMOUTH — It's not all about the money at Dollar Zone 1, 2, 3, where nothing costs more than $3.
Owner David Dykes wants his customers to have fun while they shop.
The store is located in the Monmouth mini mall and has a small footprint, which Dykes thinks will work well in town.
"There's not much retail space in Monmouth," he said, smiling.
$3 or less
What: Dollar Zone 1, 2, 3.
Where: 625 Clay St. E., Monmouth.
Hours: 9 a.m. to 9 p.m., seven days a week.
Of note: Celebrate Dollar Zone's ribbon cutting later this month. See micc-or.org for date and time.
For more information: Find Dollar Zone on Facebook, or call 503-837-0861.
Dollar Zone carries everything from batteries to birthday cards.
"You can find just about anything here, or things you might not be able to find anywhere else," Dykes said.
And if it's not on the shelf, Dykes said he can probably order it.
"We can customize a person's party," he said. "We can work with people. We don't mind bringing in new products and putting them on the shelf. That's what it's all about."
Business hasn't been booming quite yet, but Dykes is confident that it will pick up.
"I bet you we had two or three return customers today, and all the rest were fresh faces," he said.
Dykes hopes to fill a need in Monmouth through his shop. Prices range between $1 and $3, but aren't on the mark because Dykes tries to pass on every savings possible to his customers.
"It's challenging," he said. "With the 1, 2, 3, we were going to make it just flat, $1, $2, $3. But we're in between. We're $1.50, $1.25, because that's how we pass on the savings."
For example, he sells a bag of licorice for $1.50 rather than $2. It means a little less profit for Dykes, but he said it's worth it to give his customers a mom-and-pop shop experience.
The store is open seven days a week, 9 a.m. to 9 p.m. Hours may vary during holidays, but for now, Dykes plans to keep his shop open more often than closed.
"I was out on Christmas Eve this year and everybody closed at 6 o'clock," he said. "In the past I remember them staying open super late Christmas Eve. So guess what I'm doing next Christmas Eve. I'm going to be open. It's good for stocking stuffers if nothing else."
Dollar Zone also has a display of Valentine's Day gifts and cards, including balloons.
"If we can bring it in cheap enough to bring it below $3, we'll do it," Dykes said.