Wednesday, February 15, 2017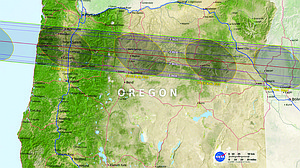 POLK COUNTY — Pat Jarrott was climbing to 14,000 feet during the last total solar eclipse seen in the Willamette Valley.
He was flying small airplane on the morning of Feb. 26, 1979. He and a photographer friend planned for an aerial view of the eclipse to avoid the cloud cover that threatened to block it for ground locations in Oregon and Washington on the "path of totality."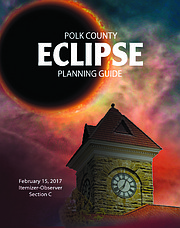 He flew around until he found a break in the clouds over Forest Grove.
Jarrott, of Keizer, had a camera, but had to pilot the plane, so his friend would adjust the settings of the camera for him to shoot without looking.
"It was fun and hectic for a few minutes," Jarrott said.
On the ground that morning was David Kasnick, at the age of 14. He watched it from an observatory in Goldendale, Wash., along with many other astronomy enthusiasts.
The sky was partly cloudy that morning, so he didn't see the entire eclipse, but it was still an experience that led him to remain interested in sky watching and eclipses as a life-long hobby. Kasnick, of Monmouth, and Jarrott belong to astronomy club Night Sky 45.
He described totality during that February morning as not quite like night, but an "eerie darkness."
The 1979 eclipse was visible in totality in Northern Oregon, Southern Washington and parts of Idaho, Montana, North Dakota and Canada. Totality in the Portland area was around 8:15 a.m.
Nancy Coffelt was watching from a field next to her house in Tigard. Coffelt describes herself as "kind of a science geek," so the rare event held a fascination for her.
"I know it was a school day, I was a senior in high school, but I don't remember if I had permission to skip or not," Coffelt said.
Overcast skies took some of the visual spectacle out of the eclipse, but Coffelt still was impressed. During an eclipse, as the sky darkens, the temperature drops, and animals behave as if the sun is going down.
"It did get noticeable darker," she said. "Since it was February, it was already kind of chilly, so I don't remember much of a temperature drop. But the birds did get quiet. That was very cool. … I remember that it looked like what the sky looked like just before sunrise — a kind of dark silver."
She said witnessing the eclipse made a lasting impression.
Coffelt is the author and illustrator of children's space-themed books "Dogs in Space," published in 1993, and the 1999 follow-up, "Dogs in Space, the Great Space Doghouse."
Coffelt teamed up with Elaine Cuyler, self-proclaimed "chief eclipse officer," who is educating about and promoting the next eclipse that will be seen in Oregon on Aug. 21.
They published Coffelt's third children's science book, "The Big Eclipse."
Those who witnessed the 1979 eclipse say the Polk County region is in for a rare treat in August, and people should go out of their way to see it.
They recommend people research proper eye protection and watch videos of eclipses so they know what to expect.
Also, research what will happen on Aug. 21 and where they sun will be in the sky — totality is about 10:15 a.m., so not high in the sky — to make sure where you plan to be offers a good view.
Coffelt is looking forward to seeing the August eclipse from a hilltop in her hometown of Baker City, which is on the path of totality.
The stronger possibility of clear skies in eastern Oregon has her eager to see what she missed during the 1979 eclipse.
"I look forward to seeing the sun disappear and the diamond ring effect just before totality," she said. "This is a rare and marvelous event."
Kasnick says Oregonians should feel fortunate that solar eclipses 37 years apart have tracked over Oregon.
It's tempting to want to capture the moment for eternity through video or a photo, but nothing is like seeing it with your own eyes, he added.
"Just enjoy it. Don't get distracted," Kasnick said. "There's going to be a million pictures of it."
In one final bit of preparation: Kasnick said people should ask a higher power for a favor.
"Whatever god you believe in, pray for clear skies," he said.