Wednesday, February 15, 2017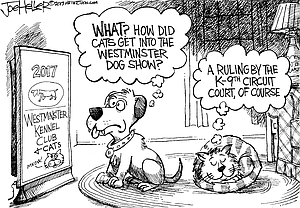 It can be easy to lose sight of how big an accomplishment is when you're in the moment.
Student-athletes are always working toward overcoming a new challenge, whether it's the next game, tournament or preparing for a new seasonal sport.
But they, and the community, should never forget to take a moment to celebrate a big accomplishment.
Seven Central wrestlers and 12 Dallas wrestlers qualified for the state wrestling championships Feb. 24-25 in Portland. Dallas swimmer Jolie-Rae Ford earned a trip to the state swimming championships this Friday and Saturday in Gresham.
It's true, they all have bigger aspirations to place at state and their futures beyond the competitions.
But qualifying for state is a huge accomplishment in and of itself.
Success in any sport takes dedication, sacrifice and hard work. Both these sports require that in spades.
Wrestling demands discipline from its competitors to make weight. There's the countless hours spent practicing and training. The physical and mental toll it takes can be too much for some to handle and, in many cases, improvement really only comes from learning from getting beaten up on the mat.
Swimming requires a similar dedication. The ability to resist the urge to eat unhealthily. The sense of responsibility to show up to practice every day and wear yourself out.
And when they step onto the wrestling mat or prepare to dive into a pool, they don't have the luxury of teammates to back them up.
It comes down to how much work and preparation is put in beforehand.
Success isn't earned during a match or a race.
It's earned on those practice days when they feel like quitting, but push through a little longer.
Making state in any sport is a rare thing. It's an experience all student-athletes hope to do, but few will.
It's an exclusive club and a memory that they will carry with them forever. The moment when all the blood, sweat and tears comes together is a moment they should treasure and be proud of.
We, as a community, should be proud of their work ethic, their desire and refusal to quit. Those are traits that will serve them well long after their athletic careers come to a close.