Tuesday, February 21, 2017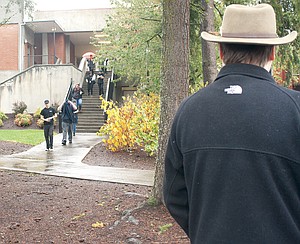 MONMOUTH — A steady drizzle Thursday morning didn't stop students and staff at Western Oregon University from participating in the biggest earthquake drill in the nation.
At 10:20 a.m., the entire campus was alerted of the beginning of the drill — the Great Shakeout — and practiced the "drop, cover, and hold" protocol recommended to keep people safe during an earthquake.
Then they evacuated campus buildings and headed to designated spot on the campus. Many of the resident hall residents headed toward the parking lot by the soccer fields as rain fell.
Did you know?
Here are the "drop, cover and hold" steps to follow:
o DROP — Get on ground since the shaking will make it difficult to walk and keep moving objects from hitting and hurting you.
o COVER — Get under cover of a sturdy table or desk and use one arm to cover your head to keep falling materials from hitting you.
o HOLD ON — to a table leg to keep the cover object from moving away from you and to steady yourself.
This was the first year Western participated in evacuation drills during the Great Shakeout. Shelly Clark, who is with WOU University Housing, said in the past, the campus practiced "drop, cover and hold."
"This was an all-campus drill. It went very well," Clark said. "We had all of our buildings evacuate as much as possible."
She said once outside, resident directors in each building or designed drill leaders reviewed with students what they are supposed to do in an emergency, and took counts of how many evacuated from each hall.
"I'm really glad that our residents chose to still come out and participate," Clark said.
State officials say the annual Great Shakeout is a critical reminder of what to do during an earthquake.
"It's important to practice 'drop, cover and hold on' often so that you can respond quickly when an earthquake occurs," said Althea Rizzo, geologic hazards program coordinator for Oregon's Office of Emergency Management. "You may only have seconds to protect yourself before strong shaking knocks you down or something falls on you."