Tuesday, February 21, 2017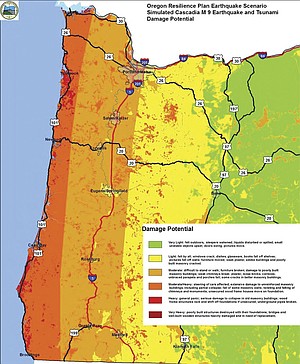 POLK COUNTY — Geologists can't say precisely when the Cascadia subduction zone will shake the Pacific Coast, but the consensus is it will happen.
Given the area is "overdue" for "The Really Big One," as a recent story in The New Yorker coined it, there's a chance it could happen within the lifetimes of residents of the Pacific Northwest now.
What does that mean for those living in Polk County?
Areas not directly on the coast won't be hit with the one-two punch of violent shaking in a possible 9.0 magnitude quake followed by a devastating tsunami. But it won't be pretty, especially if it were to happen in the near future.
In The New Yorker story published last month, a FEMA official overseeing this region of the country said if the earthquake were to happen now "Our operating assumption is that everything west of Interstate 5 will be toast."
State and local officials say "toast" may be a dramatic way of describing what would happen in the Willamette Valley.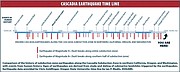 Althea Rizzo, the geologic hazards program coordinator for Oregon Emergency Management, said, no, the valley will not look like a scene from the movie "San Andreas," though some areas will experience heavy damage, she noted.
This far away from fault, the shaking wouldn't be as strong as on the coast, but nothing to shrug at when you consider the age of many buildings and bridges in the area.
Rizzo said the first seismic building codes were not established until 1994.
"If your building was built since then, it's very likely it will stand," she said. "If not, you need to look at retrofitting."
When Rizzo says "stand," that is precisely what she means. Buildings up to code should not collapse, protecting the people inside, but that does not mean it will be usable after the quake.
From there, it's dependent on the type of soil your home or office is built on.
Soil types common to the valley are prone to liquefaction — similar to turning to mush — while the earth is moving.
Landslides are another common secondary risk, so even if your home could survive the shaking, it could suffer a different kind of disaster.
Infrastructure — electricity, sewer, water and roads — also will be damaged and not functional for a period of time. First-responders will be short-handed, to say the least.
So what now? Panic? Move?
No, according to local officials, just be prepared.
Dean Bender, Polk County's emergency manager, said he's been asked on a number of occasions since the New Yorker story was published what people should do.
He's appreciative that people are thinking about getting ready, but he also doesn't want them to panic.
"Today is no different from the day before, but just be self-prepared," he said. "It's going to be a bad day. There's no way around it."
Really, it's going to be a bad stretch of months, according to the Oregon Resilience Plan, which outlines the state's ability to withstand a Cascadia quake and offers recommendations to prepare over the next five decades.
In the valley under current conditions, people should expect to be without electricity for one to three months, longer the further you are from an urban center. Clean drinking water and sewer systems could take one month to a year to restore. Police and fire stations could take up to four months before they are functional. Major highways damaged in the quake may not be passable for six months to a year. Other resources, such as gasoline, likely will not be available to anyone outside first responders for months.
Life will have changed dramatically, with one of the more noticeable differences in what happens when people call 911.
Estimates are that after a disaster of this proportion, about one-third to one-half of first responders – police and fire – will be able to report to work, leaving departments undermanned to handle all calls for help.
Bender said under those circumstances, residents will need to make a plan to help themselves.
"If people become self-prepared, it takes the burden of government because we are not going to have the people to go help them," he said. "There are not enough of us."
In this scenario, Kimber Townsend, Polk County Community Emergency Response Team (CERT) manager, the proscribed 72-hour kit of food, water, and other supplies will not be sufficient. She recommends at least three weeks, and, if possible, up to three months.
Statewide and local agencies also have been busy assessing what damage may occur and what can be done to mitigate it.
Townsend said she's encouraged by the moves made at the state level in recent years, but still believes the Oregon and rest of the region that will be affected by the quake is playing "catch up."
"We are behind the curve, but I think we are rolling a little faster," Townsend said.
The Oregon Resilience Plan was completed in 2013. Rizzo said she would like to see the recommendations in the plan be accomplished in small chunks. She said the steps the Oregon Legislature took in its last session to prioritize funding for seismic upgrades, particularly in vulnerable schools, was a positive sign that may happen.
More is on the horizon, as well. Next year, the states of Oregon, Washington and Idaho will participate in a large-scale drill called "Cascadia Rising" focusing how to respond in the aftermath.
"There are some good things happening statewide," Townsend said. "I'm really looking forward to the Cascadia Rising exercise next year. I think there are going to be so many lessons learned that will actionable items."
As for individuals and families, Townsend believes with the amount of information out about the quake -- and its destructive potential -- everyone has an obligation to learn how to take care of themselves as best they can for as long as they can.
"You know you live in an earthquake prone place," she said. "You better be prepared for it and if you are not, shame on you."
Rizzo said she thinks the tide is turning on awareness. Since the world witnessed the Indonesian quake and tsunami in 2004 and the 9.0 that hit Japan in 2011, Cascadia has become a topic of more concern and conversation, she said.
"That was the first time Oregonians had really seen what we can expect to see here," she said, referring to the Indonesian quake. "It just take time. People have to hear about it often enough. Since 2004, preparedness has gone up exponentially. Before that, there were just a few voices in the woods."
Now that it has become a shout from the mountaintop, officials say it's time for people to take it seriously -- and hope the fault remains dormant long enough it give for the state and its residents to chance to be ready.
"We are hoping that Mother Nature give us the 50 years that the Oregon Resilience Plan is based on," Rizzo said.
Have questions? Send them to reporter Jolene Guzman at jguzman@polkio.com and she'll try and get them answered.
Did you know?
• The Cascadia subduction zone is a 600-mile long earthquake fault stretching from offshore northern California to southern British Columbia. This fault builds up stress for hundreds of years as the Juan de Fuca and North America tectonic plates push against each other. Eventually, the two plates rip apart, creating some of the largest earthquakes and tsunamis on earth. Where the Juan de Fuca oceanic plate and the North American continental plate meet is called a subduction zone, because the denser Juan de Fuca plate is being pulled under North America. The Juan de Fuca plate is moving to the northeast at about an inch a year as the North American plate moves west.
More fun facts about quakes
• The tsunami that could hit the Oregon Coast after a 9.0 magnitude Cascadia subduction zone quake could reach 130 feet.
• The last "really big one" took place in January of 1700. Dating back 10,000 years, the average number of years between Cascadia quakes is 243 years.
• It is predicted that six major highway bridges would collapse in a 9.0 magnitude quake. Total bridge repairs statewide would cost $1 billion.
— Source: Oregon Office of Emergency Management.