Wednesday, February 22, 2017
Wagner-Thorp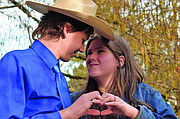 Shawn Wagner and Samantha "Sammy" Thorp announced their engagement on Feb. 13.
The couple was engaged at Chemeketa Community College's Polk Center.
Sammy is the daughter of Judy Slater and Paul Thorp. She lives in Dallas. She is a student at Chemeketa and a member of the Church of Jesus Christ of Latter-day Saints.
Shawn is moving to Dallas. He also is a student at Chemeketa, and a new member of the LDS church.
The wedding date has yet to be decided.