Wednesday, January 25, 2017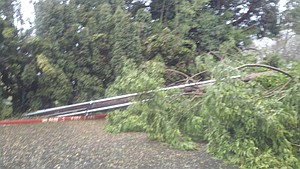 FC Garden Club to hold gathering
The Falls City Garden Club invites the public to a seasonal farm-to-table night Thursday at 6 p.m. at the community center, 320 North Main St., Falls City.
All ages are welcome.
DRV celebration Wednesday
Dallas Retirement Village, 225 NW Jasper St., Dallas, will mark its 70th anniversary and celebrate the grand opening of the Lodge Residences and Clubhouse Wednesday (today) at 11 a.m.
A ribbon cutting ceremony will be held at 11:30 a.m. Tours of the Lodge Residences and Clubhouse will be available after. Wine tasting and coffee sampling, movie and snacks and a performance by DRV's resident drum collaboration will be held. Appetizers and refreshments will be served.
For more information: 503-623-9211.
Stew, biscuit lunch served Friday
The annual stew and biscuit lunch hosted by the Dallas Naomi Chapter No. 22, Order of the Eastern Star is Friday from 11 a.m. to 1 p.m. The lunch will be served at the Dallas United Methodist Church, 565 SE LaCreole Drive. Cost is $7 per person and includes stew, biscuits, pie and beverage.
Funds raised from this event support the many philanthropic projects of the chapter.
For more information: 503-623-8442.
KV Charter School presents series
Kings Valley Charter School, 38840 Kings Valley Highway, Philomath, presents its Parenting Game-Changer Series Thursday from 6:30 to 8 p.m. The topic will be helping your child manage stress, and is aimed at parents with middle schoolers and teenagers.
Among the topics to be discussed include strategies to help you and your child respond to the stress of homework, peer relationships and family dynamics.
Free, on-site childcare or supervised study space is available if requested by Wednesday (today).
There is no cost to attend. Pre-registration is requested by contacting Laura, laura.srf@ruralfamilies.org or 541-929-2535.
Refreshments will be served.

IDA presents Walk of Hearts banners
Independence Downtown Association will be selling hearts for its Walk of Hearts.
Each heart will be hung on lamp posts along Main Street in downtown Independence.
Cost is $28 per side.
Deadline for ordering is Feb. 5. Order forms are available at the Independence Public Library, 175 Monmouth St., or by emailing Nancy Lodge at pd1571@yahoo.com.
Messages will have three lines. First line has a max of five characters. The second line has a limit of nine characters and the third line has a max of eight characters.
DDA Out and About meets at Sassy's
Dallas Downtown Association will hold an Out and About in Dallas 6 p.m. on Wednesday (today) at Sassy's Kegs and Eggs, 186 SW Court St., Dallas. A pool tournament will be held with prizes for the top three teams.
For information: Emma, 971-701-1880, or email to emmagdda@gmail.com.

PCPAC to meet in Monmouth library
The Polk County Principled Action Committee will hold a meeting Saturday from 2 to 4 p.m. at Monmouth Public Library, 168 S. Ecols St., Monmouth.
The meeting will include time to get acquainted, talk about communication and education, and set the next meeting date. There will also be a discussion about future plans.
Senior Center will jam to Elvis
Dallas Senior Center, 955 SE Jefferson St., Dallas, will hold a 10th annual Elvis Music Jam Thursday at 6:30 p.m.
All musicians are welcome. Please bring finger food to share.
For more information: 503-623-8554.