Wednesday, January 25, 2017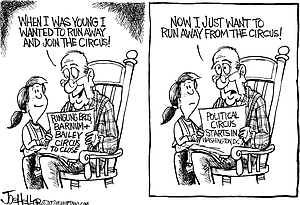 Inspired by the outpouring of interest on Facebook community pages, Polk County's first forum to address homelessness happened on Thursday. The event was well-attended, with about 80 people coming to see how they can get involved with helping the homeless population in Polk County.
Action is needed, but it's tricky, because homelessness has many facets and faces. County Commissioner Jennifer Wheeler had good intentions when she joined with officials in Marion County to form the Marion-Polk task force to address homelessness, and was wise to remove Polk from the group when its leaders began to lose focus.
That doesn't mean she — and others in Polk County — doesn't want to address the issues and see what can be done to help those in need.
When the Dallas community bulletin board on Facebook exploded with people asking that very thing — how can I help those out in the cold tonight? — the community forum was arranged.
People learned about what resources are available and what is needed, both immediately and down the road.
Some things are larger than community members can handle — mental health, low wages, high rents, housing shortage — while other things discussed are more manageable.
While the Mid-Valley Community Action Network works to get a handle on just how large a homeless population exists in Polk County, community members can work to collect donations of cash and clothing for those on the streets and in parks.
When one has nothing, everything counts.
Today at Valley Life Center, the annual Community Connect event will help hundreds connect to resources, get a fresh hair cut, eat a warm meal, gather much-needed supplies, and even get basic care for a beloved pet. It's a great chance to see services in action.
Even if you don't need help, swing over and take the opportunity to "shop" for a place to volunteer. Find out where you want to donate your time — your most precious resource — and sign up.
Spend time this weekend going through your closet and seeing what you have that you aren't using anymore — is it still in good shape? Would someone else find joy from something collecting dust in your home?
Donate it on the first Saturday of the month to the Polk Family and Community Outreach donation center — the warehouse space is donated by Salem Health West Valley to store items that will be given to people in need in the Polk County community.
Set out a box at school, work or church to collect food, socks, coats, gloves, hats or cash.
It truly takes a village to help everyone in the community. When the residents of Polk County set their minds to something, nothing stops them.
Homelessness is not something that can be prevented, but people who experience it or are close to experiencing it can be helped. It is wonderful to see the first steps taken.