Tuesday, January 31, 2017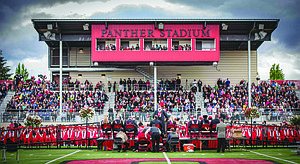 POLK COUNTY — Superintendent Buzz Brazeau was ecstatic when he heard about Central High School's graduation rates for 2015-16: 86.5 percent.
"Kids working hard; teachers working hard; parents working hard; administrators working hard as well, and that's a good deal," Brazeau said. "Great news."
Central's rate is up from 72.6 percent last year for its four-year cohort graduation rate. Its five-year rate is even higher at 91.71 percent.
Overall, schools across the state saw an increase in graduation rates in the class of 2016, up one percentage point to 74.8 percent.
"It shows the dedication of our teachers and school administrators that graduation rates are increasing across the board," Deputy Superintendent Salam Noor said in a press release. "We are making progress, while recognizing there is still more work to do. We are pleased our state's focus on improving graduation outcomes for all students is making a difference."
Not all students' success counts on graduation-rate data.
In Perrydale, graduation rates fell from 100 percent in 2014-15 to 96.43 percent in 2015-16. The reason?
"One special ed student got an alternative certificate," Superintendent Eric Milburn said. "Those don't count as completer or as a graduate. So if you have a high-needs special ed student that is well below ability, they're most likely going to get an alternative certificate. That's the highest level they can complete."
With everyone — including those in special education — completing high school in one way or another, Milburn said Perrydale is glad to be on track – and it looks like the student success will continue.
"We just finished the semester," he said. "In the conversations I've had with the teachers, it seems like kids are on track" to graduate in 2017.
Falls City's graduation rate has shot up to 82.35 percent from 50 percent in 2014-15. With such a small student population, Falls City High School's graduation rates are largely affected by one or two students.
Superintendent Jack Thompson said the high school started a careers class, focusing on helping students plan for what they wanted to do after graduating. He said it's helped students stay focused.
"They've been spending a lot of time reviewing transcripts looking at, 'Where am I, and what do I have to do to be where I need to be,'" he said. "It's made a big difference, and we are seeing the fruits of our labor now."
Thompson said he's proud of the effort employees have put into assisting students with the first part of those plans: graduate from high school.
Dallas High saw a dip in its four-year cohort rate: from 82.17 percent in 2014-15 to 74.63 percent in 2015-16. Its five-year cohort increased nearly 4 percent from 81.63 in 2014-15 to 85.06 in 2015-16.
"It's important to note that it's always a different group of kids," said Steve Martinelli, director of instructional services. "In many cases, they have left our district and not enrolled in another district. That's the majority of our students who have not completed."
Martinelli said district employees are working hard to identify those students who have left Dallas earlier.
"Our goal of course is to increase career and technical education programming, increase student engagement," Martinelli said. "If they enjoy class and work hard, we'll solve our graduation issues because they'll want to be here."