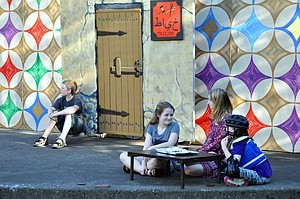 MONMOUTH — Applebox Children's Theater is in its final week of rehearsal before taking the Western Oregon University Amphitheater for the seventh year, this time to perform an adaptation of "Arabian Nights."
The script was penned by Maren Bradley Anderson, a professor of literature at WOU and mother of two Applebox actresses. The production is directed by Rob Harriman.
The play is based upon the book known as "Arabian Nights," or "One-Thousand and One Nights."
The children's theater describes their version thusly: "Sheherazade marries Shahryar and has to entertain him with stories so that he will not kill her in the morning."
Sheherazade tells three stories over the course of the show: "The Adventures of Al-adin and the Treasure Cave," "The Son of Adam" and "The Hunchback."
Each story includes cunning characters, dynamic dialogue and comedic genius that only children can achieve, with floating castles, flaming fences and dead hunchbacks.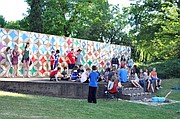 The cast is the company's biggest yet, with nearly 40 players whose ages range from third to eighth grade. The program not only provides a safe, supervised activity for kids each summer, but it's also free for both the performer and the audience, in part thanks to funding from the Polk Country Cultural Coalition, city of Monmouth and the Ash Creek Art Center, but also due to the heavy community and parent involvement in the production, Harriman said.
One example of this is the sets, which were designed and painted by Becca McCannell, head of Western's art department.
This support makes it possible for the actors and actresses to keep coming back each summer, but it's not the only motivation the children have.
"I really like the play because we get time to play, and it's not really strict and Rob (Harriman) is really fun," said Colleen Anderson, 9. "I just really like acting — and I think I'm really good. It's just really fun here. I hope to do it for many more years."
For Colleen and her sister, Vivenne Anderson, 6, this will be their third summer with Applebox.
"Once I was a fairy, then I was a pirate, now I'm a horse," Vivienne added.
The plays also help kids build acting skills and confidence on stage, as Applebox veteran Joseph Harriman explained.
"This is my first year not on stage, because I aged out and I'm in high school now," said Joseph, referring to the age limit, which requires Applebox actors be between 8-12 years old. "And some people (like myself) age out, and they go on to become thespians for Central (High School)."
For many of the actors, this is their first play. The support of an excited audience could be what begins a lifelong career in the theater.
An open dress rehearsal will take place on Wednesday (today) from 7 to 8:30 p.m. Official performances will occur Thursday, Friday and Saturday, also from 7 to 8:30 p.m.
All performances will be held at the Western Oregon amphitheater in front of Rice Auditorium at the corner of Knox and Powell streets. Admission is free, Audience members should bring their own chairs or blankets.