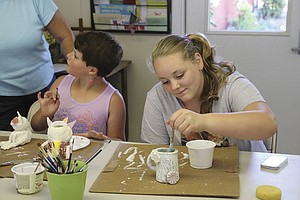 MONMOUTH — Tofer Deforest was putting the finishing touches on his monstrous creation. Deforest had spent hours crafting a spider — a tarantula, to be exact — out of clay.
All that remained was to glaze it and show it the world.
Of course, Tofer, 9, had more personal goals.
"Teasing my sister about it," Tofer said with a smirk. "She hates spiders."
Tofer's sister, Lileigh, made it clear what would happen if he tried anything.
"If that comes under my bed, it's being ruined," she said.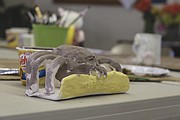 Tofer and Lileigh were part of the Ash Creek Arts Center's summer art camp, held over four days on June 21-22 and June 28-29 at St. Hilda's in Monmouth. An artist reception was held Friday evening.
This year's theme was "Marvelous Monsters in the Mudroom."
"I want to create a sense of community for these children," Francie Zandol said. "I want to provide children with good art experiences and encourage creativity."
Zandol is one of the instructors for the camp, which helped spur a love of art — even among kids who had never considered themselves artists before.
"It's actually really fun," Savannah King, 13, said. "It's really creative and great because we don't have a lot to do during the summer. I had never worked with clay, but now I want to do more."
Not everyone took the monsters theme in scary directions.
King was busy working on a special mug on Thursday. She also completed work on a book that had a special meaning.

"My book had a sunset, then flowers then a cherry tree to represent new beginnings," Savannah said.
Lileigh's clay creations included a griffin mug — inspired by Harry Potter — and a black cat mug to give to her grandparents who own two black cats themselves.
"It's fun to play with (the clay) while it's in your hand," Lileigh said. "It's really squishy."
Zandol has made it a goal to help promote art with children and to get them excited to share their work. Seeing them proudly share their work is as rewarding for her as it is for them.
"I want to help kids give voice to their thoughts," Zandol said. "You think they'll do something, then take a project in a direction I couldn't possibly have imagined. That's what I love seeing."