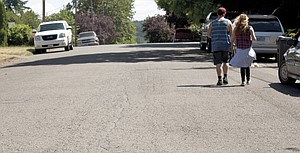 DALLAS — The Dallas Public Works Committee recommended four sections of streets for maintenance this summer, but may change what types of streets are prioritized for repair in future years.
City Manager Ron Foggin said for several years, the city's policy was to focus money on the streets with the heaviest use and those serving the town's business districts.
This year, the city's budget committee approved including $50,000 to repair local streets, in response to voters rejecting a $10 million bond to repair the residential streets.
A 2014 engineering assessment estimated the city has a $15 million backlog of deferred maintenance on its 57 miles of streets.
Committee Chairman Micky Garus asked city employees to study how many years the city could ignore those higher-use streets — called arterials and collectors — and focus on fixing neighborhood streets.
He said the strategy is in part to answer complaints from city residents that their streets are in bad condition, and a way to sell a bond to voters.
He asked how low the busiest streets could fall on the pavement condition index, a measure of street quality, before the cost of repair grows to an unacceptable level.
"I want to know what number are we willing to live with that is still spending our dollars smartly, but diverting as much as possible onto the residential side," Garus said. "Just say our arterials and collectors were at 70 percent, if we ignored them for three or four years, how quickly would they deteriorate?"
Public Works Director Frank Anderson said streets degrade between 1 and 2 percent a year, depending on use, but added there's a gamble in that approach.
Anderson said with the city spending between $300,000 and $350,000 on maintenance, and 57 miles of street to take care of, repairs can easily get pushed off for too long.

"By the time you get back to it, it's dropped down to an area where its costs have ballooned a lot," he said. "With the little money that we are using, it's kind of a roll of the dice in a sense, hoping that it doesn't (degrade) that much."
Garus said the city should form a committee to look at funding options again, and find the best way to market a new plan to voters.
Foggin noted the state Legislature is working on transportation legislation that could send more money to cities.
"We've got to address that $15 million, and there's no money other than getting some help through a bond," Garus said. "Hopefully the state can help a little bit."
He suggested replacing the policy of focusing on the most-used streets to those in the worst condition.
Foggin said he appreciated the idea behind that, but said that may not be the most cost-efficient approach because it costs money for contractors to move their equipment.
Instead, he said the city staff can research repairs that would make more improvements at a lower cost.
He said streets in the mid-range condition cost more than five times less to repair than those in the worst condition.
Garus said public works employees should research what would give the city the most for it money.