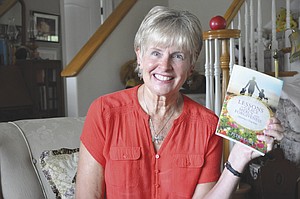 DALLAS — In the late '70s, Petra Cole and her husband adopted two children: Jay and Sally.
Sally was the younger sister of Jay, who, it would later be discovered, was what Cole refers to as a "drug baby" — a child affected by their mother's drug and alcohol use while pregnant.
In 2016, Cole published a book titled, "Lessons in Grace, Mercy and Forgiveness: Adopting a Drug Baby," recounting her experiences raising a drug-affected child and the challenges she faced. In the year since the book's release, Cole has received positive and rewarding feedback.
"It's been wonderful getting the responses from people having read it, saying, 'I needed this,'" Cole said.
It was this need that motivated Cole to write her book, along with some familial encouragement.
"My sister is the one who said, 'you've got to put your story out there,' because there are so many mother's struggling and not able to understand what's going on," Cole explained.
Cole added that often, adopted and foster children who were exposed to alcohol or drugs in utero produce a false negative when tested for Fetal Alcohol Syndrome Disorders and similar conditions.
In 2015, the Children's Research Triangle published a study in which it found that 86.5 percent of adopted and foster children in the sample group of 547 children had never been diagnosed or had been misdiagnosed when they were, in fact, affected by Fetal Alcohol Syndrome Disorders.
Cole, though conscious of her son's differences from other children, was unaware of his condition until after Jay was an adult.
"This was back in the '70s, before we knew anything about the effect of drugs on babies," Cole said.
Raising a child affected by drugs in the womb is a unique challenge, as Cole's book explains. One challenge was a lack of guilt or conscience in her child. However, Jay wasn't malicious. In fact, Cole described that she struggled to find a way to discipline him or help him understand consequences to his actions.
"That was the hardest part: learning how to communicate with him in his world," Cole said. "He was, in spite of all that, the funniest child I've ever been around in my life — and always upbeat. Even when he was going to run away, he would let us know, 'I'm just going to run away for a little while.'"
Despite Cole's frequent and open conversations about increased chances of addiction with her children, as an adult, Jay became an addict.
"He had gotten into drugs, which is pretty typical for a drug-addicted baby," Cole said. "He had gotten into drugs and then, when he was 37, he decided he was totally finished with that lifestyle."
In 2008, Jay Cole checked himself into the rehabilitation program run by Mountain Ministries, a church in Rainer. He died shortly after his 37th birthday.
"I'm at peace with that because he had turned his life around," Cole said. "He had really opted to change his life."
Petra Cole is a longtime resident of Dallas; she loves spending her time playing tennis and directing her church choir. "Lessons in Grace, Mercy and Forgiveness: Adopting a Drug Baby" is available on amazon.com and xulonpress.com.