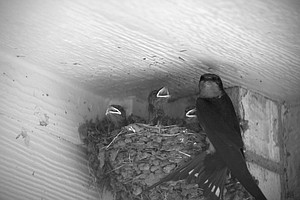 Yarn to perform at Dallas Civic Center Folksinger Red Yarn will perform his show, "Born in the Deep Woods," Thursday at 10:30 a.m. at the Dallas Civic Center, 945 SE Jefferson St., Dallas.
Red Yarn is a Texas-born, Oregon-based family performer who combines folksongs and puppetry.
He recently released his fourth album, "Born in the Deep Woods," in March.
There is no cost to attend.
For more information: Dallas Public Library, 503-623-2633.
Senior center to hold potluck
Monmouth Senior Center, 180 S. Warren St., Monmouth, holds its monthly potluck Friday at noon.
Gail Saxowsky from the Free Clinic will speak about health care costs.
Mexican pasta will be the main dish. Attendees are asked to bring salads, vegetables, rolls, desserts or a favorite dish.
PC Museum to hold porch sale
Polk County Museum, 560 S. Pacific Highway W, Rickreall, will hold its annual porch sale Saturday from 9 a.m. to 3 p.m.
The event serves as a fundraiser for the museum.
For more information: 503-623-6251.
Association to hold free program
The Alzheimer's Association will host Dementia Conversations Tuesday from 1 to 2:30 p.m. at Salem Health West Valley Hospital, 525 SE Washington St., Dallas.
There is no cost to attend.
The program will offer tips on how to have honest and caring conversations about going to the doctor, deciding when to stop driving and making legal and financial plans. The association is also seeking education presenters to give one to six hours a month to help educate others.
Chemeketa to hold solar eclipse event
Chemeketa Polk Center, 1340 SE Holman Ave., Dallas, will hold a solar eclipse event Tuesday from 6:30 to 7:30 p.m. titled "Solar Eclipse: A Space Odyssey."
Amateur astronomer David Kasnick will share information about the eclipse through lecture, video and hands-on activities.
Bring a long cardboard box or tube at least 12 inches long and learn how to build your own viewing device.
For more information: www.polk.chemeketa.edu.
Red Cross seeks blood donors
The American Red Cross is facing a blood shortage and is issuing an emergency call for eligible blood and platelet donors of all blood types to donate.
Blood donations fell short of expectations for the past two months, according to the American Red Cross, resulting in approximately 61,000 fewer donations than needed.
There will be a blood drive at Trinity Lutheran Church, 320 Fir Villa Rd., Dallas Friday from 11 a.m. to 4 p.m. There will also be a drive in Independence at First Baptist Church, 1505 Monmouth St., on July 24 from 12:45 to 6:15 p.m.
For more information: www.redcrossblood.org.