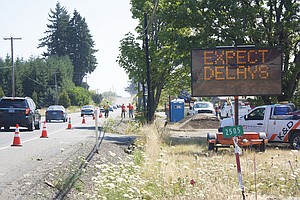 POLK COUNTY — During the Great American Eclipse, the total eclipse will last about two minutes.
Arriving to and leaving from your destination will take a bit longer.
"We don't anticipate closing any roads, but we expect all the roadways to be very, very busy, especially in the path of totality," Oregon Department of Transportation's Angela Beers-Seydel said.
Expect delays of a few hours, and that may be optimistic.
"I'm thinking that's the minimum," she said. "We're asking people to arrive early and then stay put and leave as late as you can."
Poetic wisdom
If you wait to arrive
You'll be late on the drive
And miss the celestial lights.
If you hurry to leave
You'll surely feel peeved.
Stick around and see Oregon's sights.
— ODOT
It will be imperative for people to plan ahead. That includes making sure gas tanks are filled, directions are nailed down, and having supplies such as food and water, in case you get caught in traffic.
"What are you going to need if you have to hunker down," Beers-Seydel said. "If you're stuck in traffic for potentially hours or if you can't leave for maybe a day, what will you need to have with you. We want people to anticipate those kinds of things and get that stuff together the week beforehand."
Having food, water, medications and fuel is key, Beers-Seydel said. Just as important will be packing an extra dose of patience.
"This is one of those events that everyone wants to be at," she said. "We don't want people stopping at places that aren't safe. Planning extra time is really, really important. Be aware of everyone around you. Once the eclipse is over, will everyone try to leave at the same time?"
Potentially complicating matters during the eclipse weekend is the Grand Ronde Powwow.
"We'll have flaggers out there," Beers-Seydel said. "That can be a nightmare on a regular year."
The morning of the eclipse could be even more hectic from a traffic perspective if weather on the Coast doesn't cooperate.
"If we wake up at 7 a.m. and it's cloudy, people will rush into the valley," Beers-Seydel said.
Oregon Department of Energy Nuclear Emergency Preparedness Coordinator Deanna Henry said local drivers should not break normal driving habits.
"We're working with our petroleum companies so that they can apply their special events planning strategies toward that event," Henry said. "That means they have ample time to gradually maximize their supply volume to meet an increase in demand. They are prepared if there is a need to increase delivery from once every four days to every day and a half, and our trucking companies operate at about 40 percent capacity. We anticipate increasing that to 100 percent, if needed."
Henry said she is confident the strategies will be enough, but things could change.
"We do anticipate some spot problems in the more rural communities," Henry said. "The strategies also don't accommodate for behaviors out of the norm for our Oregon motorists. If they go out of the norm, it may put an unnecessary strain on an already strained supply system and may create our own problems."
Jim Todd, space science director at OMSI and member of the statewide task force, suggests approaching the eclipse weekend as if extreme weather hit.
"Treat it like a snow day," Todd said. "The infrastructure in Oregon is not built to handle (the traffic). We are a mountain state. Here in Oregon it's a bit of a challenge to get around. Give yourself extra time. Get there early, stay put and leave later."