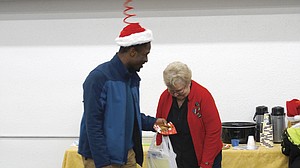 INDEPENDENCE — Since Americorps RARE volunteer Imani Hall started work as the manager for the Independence Downtown Association, seven new businesses have opened up.
There were "a lot of different things that we've accomplished over the last couple of months," Hall said.
Hall's work with IDA through the Resource Assistance for Rural Environments program wraps up at the end of July. The downtown association has secured a grant for a second RARE volunteer to continue and improve on Hall's work, he said.
One thing Hall will suggest to the new RARE is to consider encouraging multiple events at once.
"I think one of the best things we can do with the downtown is try and pair events together," he said.
The Parade of Lights in December was well attended, with twice as many lighted floats as in years past, Hall said.
"It was a great reception downtown at Sojourn, which happened to overlap a ribbon-cutting at Pearl on C and Keeaumoku Hawaiian Grill opened that night, so it was a really vibrant downtown," Hall said.
It wasn't just IDA-sponsored events that went well, but fundraisers, too, Hall said.
"The Walk of Hearts this year went really well," he said. "I think we made the most money."
A flower basket fundraiser was added during the spring, which Hall said did OK.
"We definitely didn't make as much as we would have hoped," he said. "We're hoping it will be strong in the years to come. It's still really exciting to create a new fundraiser, be out in the community and do more things that are engaging citizens of Independence and Monmouth in the downtown Independence."
Hall worked to secure grant funding for Boomtown Brewing, coming soon to downtown. Also, IDA now has a Square — a chip reader allowing the organization to accept debit and credit cards.
"It helps in the sense that we don't need cash for everything, so we should be able to make more money through fundraisers," Hall said.
While membership hasn't increased much during Hall's tenure, he said IDA has created a new brochure and membership packet.
"Hopefully with the new membership pack, we'll be able to bring more people in to support the downtown association — not only businesses, but people who live on Second and Third streets," he said. "Hey, you love coming down for live music at Independence Grill or paint and pinot at Brew, you should support the business association, because we support downtown businesses."