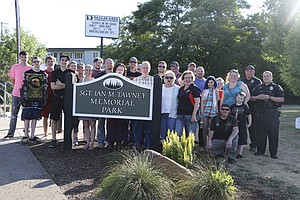 DALLAS — When Alex Lofton found out Sgt. Ian Tawney's memorial park sign was vandalized, he wasn't going to let it sit overnight without trying to fix it.
The Sgt. Ian Tawney Memorial Park sign was tagged at about 4:30 p.m. on July 4.
Someone posted a picture of the defaced sign on the Dallas Community Facebook page, and comments began streaming, people upset that anyone would damage the sign marking the park named in memory of the fallen Marine.
Dallas resident and U.S. Army veteran Lofton didn't see the thread until 11:30 p.m. on July 4 and decided to take action.
"To me it's really — it wouldn't have mattered what day it was, that would have bothered me — but especially Veterans Day, Memorial Day, Fourth of July, those are the days it's more sacrilegious," Lofton said.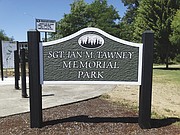 He, his brother, his girlfriend and friend packed up buckets of soapy water and scrub brushes, parked his car in front of the sign and used the headlights to try and clean off the pink spray paint.
The paint would not scrub off.
"Our friend Jenny was like, 'I've got acrylic paints, do you think we can just paint over it?' I said, 'Let's try,'" Lofton said.
Dallas police officers were called out on July 4. After confirming Lofton was trying to fix the sign, they left him to work.
The next morning, it wasn't good enough for Lofton, as the spray paint continued to show through. Lofton thought the employees of Dallas Parks Department would be busy cleaning up after the Fourth of July festivities, so he took the day to get back to the sign.
"So I went back and started working on it again," he said. "I worked on it about six hours (on July 5), and then my friend Janie (Sires) showed up because she was like, 'Are you still working on the sign?'"
Lofton and his girlfriend were at the park for five and a half hours on July 5.
"I think I only got about three and a half hours' worth of work because people stopped and hugged me and wanted to shake my hand," he said. "It's been a huge community thing."
Lofton decided to paint the background a darker, "Marine Corps green."
"I thought it was fitting," he said. "We painted the words white, and then I went around the little trench line around the letters with black to make it pop out more."
To cover the spray paint on the posts, Sires painted them black.
"I didn't want the family to go out there last night and say, 'the sign looks great,' and still see that paint on those posts," Sires said. "I'm just glad they woke up this morning and they did not have to see any ugly. That's all I cared about."
Lofton said the sign looks different from other city park signs, but it's fitting because it's more than a park, it's a memorial to a fallen soldier.
Theda Tawney, Ian's mother, said she was upset when she first found out about the vandalism, and surprised by the number of people who responded and how strongly they felt.
"I was not sure how it could be fixed, but Alex took action right away," she said. "It was comforting to know a veteran was working on the situation. Alex and everyone involved did an amazing job. It looks great and we have met some new friends."
Tawney also said she was grateful for the way the situation was explained by Lt. Jerry Mott.
"Mott did a beautiful job of describing the situation," she said.
Mott posted on the Dallas Police Facebook page that the suspect, "a 55-year-old female known to Dallas Police from previous events" was cited and released for two counts of third-degree criminal mischief. The woman told police she spray-painted "City Park" and an arrow to make "directions so others could more easily find it."
"Nothing suggested the suspect targeted the sign intentionally to disrespect the sacrifice Sgt. Tawney made for us," Mott said in the Facebook post.
Lofton and Sires were concerned the city of Dallas would replace the sign so it would be consistent with the color scheme of other park signs, but Park Supervisor Eric Totten said he has no plans to do that.
"The response was amazing on it," Totten said. "I was scratching my head with what we were going to do with the posts, but it looks good. We're going to leave it as-is."
Because of his efforts, Lofton said he's "Dallas Facebook famous," but he insists it was a community effort to fix the sign.
"I started it, but it wasn't just me who did it," he said. "There were four of us the first night; there were two of us the next day; and then Janie and her husband showed up to help. This has been a community thing from the get-go. I've just been the figurehead, for lack of a better word. I was the first one who, instead of saying 'I'm going to do it,' I just went and acted."
Lofton insists that, given the time, many others would have done the same.
"I'm retired; it was midnight on the Fourth of July, probably because I'm a little crazy, too. Most people wouldn't go out there at midnight and try and do it," he said. "There were a lot of people who wanted to do it the next morning, I'm sure. But 95 percent of them probably had to work because it was the first day back coming from a four-day (weekend)."
Shirley Buchanan, owner of Sassy's Keggs and Eggs, paid for the paint used to fix the sign, and Jake Frazier from Dallas Dominos donated pizzas to Lofton and his crew — which Lofton used to host an informal "rededication" of the newly painted sign for the community on Thursday night.
Lofton said the entire ordeal is a reflection of how great the Dallas community is.
"From the vile acts of one person, you really see what your community's based on," he said. "This community's great. Whenever something bad happens, it seems like the community pulls together and takes care of it."