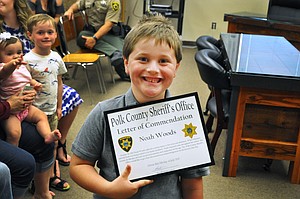 DALLAS — "Every job is a self-portrait of the one who does it. Autograph your work with excellence."
This is the inscription on the challenge coins which were given to Ethan Collins, Kyra Orwick and Noah Woods by Sgt. Todd Fenk, along with plaques of commendation from Polk County Sherriff Mark Garton. In the community conference room of the Polk County Courthouse on Friday, Ethan, Kyra and Noah were given commendations for their actions on June 30.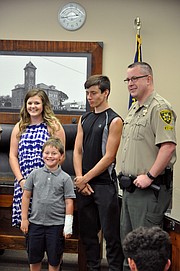 "On June 30, at about 9:45 a.m., the sheriff's office responded to a serious injury at the home of 6-year-old Noah Woods. The caller, Ethan, reported that his cousin, Noah, had seriously injured his wrist and his stomach. Deputies arrived seven minutes later, and they found Noah, and he was being given first aid by Ethan and his sister, Kyra," explained Garton. "Deputies were surprised by the effective care that they were giving Noah and there was really nothing more … to be done until medics arrived. Deputies worked to help keep Noah calm and help him get through the ordeal until the ambulance was there to take him to the hospital.
"Deputies on scene spoke to Sgt. Fenk after the incident and said that Kyra and Ethan and Noah all showed exceptional composure for their age."
The sheriff added that the medics on scene were also pleased by the care that Noah had been receiving before their arrival.
The three involved in the incident each played a role in ensuring the best care for Noah, Garton said.
"Kyra provided immediate first aid to Noah and protected him from further injury," as stated on her plaque. "Ethan provided immediate first aid to Noah and called 911," as stated on his plaque and "Noah remained calm throughout this ordeal. His actions on this day showed exceptional maturity and composure for his age," as stated on his plaque.
"It's not very often that we get to do this because a lot of times there isn't as positive an outcome," said Garton. "A lot of people may not have done what they (Kyra and Ethan) did, so we really appreciate all of that."
Family and friends attended the commendation, along with deputies and a few members of the county's Board of Commissioners.