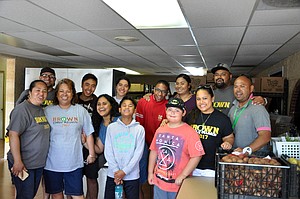 INDEPENDENCE — On Friday, Boy Scout Troop 38, food bank volunteers and a large family reunion joined forces to help the Ella Curran food bank relocate one storefront over from the space they were occupying, at 870 N. Main St. in Independence.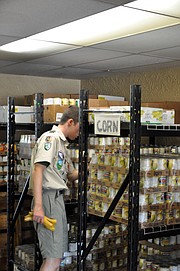 For the Brown family, volunteering to move the food bank was a spur of the moment addition to their reunion schedule, which was decided on Friday morning.
The "scout in charge" was Keith Eberly, who led the charge as a part of his Eagle Scout Service Project.
In the pursuit of advancing from the rank of Life Scout to Eagle Scout, the highest rank within the Boy Scouts, a Life Scout must "plan, develop, and give leadership to others in a service project helpful to any religious institution, any school, or (their) community," as explained in the 2017 Boy Scouts' Guide to Advancement.
When asked about his project, Eberly replied that he was "just making sure everything goes according to plan," while directing foot traffic and fielding questions from the surrounding volunteers.
The group was made up of 36 people including the Boy Scouts, the Brown family, food bank volunteers and Eberly's grandmother.
The Ella Curran Food Bank serves the Monmouth, Independence and surrounding areas.
It is open Mondays, Tuesdays and Thursdays from 9 to 11:45 a.m., with additional hours on Tuesdays from 4 to 6 p.m.