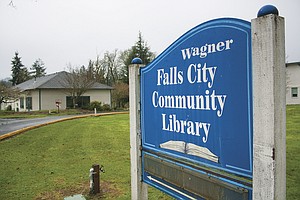 FALLS CITY — Granted they are submitted on time, two five-year operational levies will appear on the November ballot for Falls City voters, one for Wagner Community Library and another for the city's fire department and streets.
The Falls City City Council voted on Thursday to have Mayor Terry Ungricht do the research and submit paperwork to election officials for both levies.
Ungricht asked that the motion say he would "try" to get the levies submitted, because he's afraid it would be too much work to complete before the deadline.
Items for the ballot must be approved 60 days before the election, which is on Nov. 14.
"I will try," Ungricht said following the vote. "I just want everybody to understand that we are on the deadline. I'm not saying it's impossible."
Ungricht said it would cost $1.30 per $1,000 of assessed value on properties to keep the library open.
He also gave a report on the state of the city's fire department and paved streets.
He said he submitted a grant to FEMA to replace the fire department's breathing units that allow them to conduct interior firefighting and rescues.
He's not confident that the city will receive the grant, and said the unit expires in two years.
"The only reason I can think that we are not being awarded it is that we have 950 people and 1.2-square miles (in the coverage area)," he explained. "The money is real tight, so they're going to service areas that cover more population and area. … We will no longer be able to go inside to fight a structural fire. That means you stay outside, keep it cooled down and let it burn."
He added a few vital roads in town have degraded to a dangerous level and others will be there soon.
"You guys have driven on our paved roads," he said. "They are in desperate need, especially after last winter."
He proposed a combined operational levy for the fire department and the streets, estimated at between $1.60 to $2 per $1,000 of assessed value to pay fire needs and street maintenance.
The fire department also would be able to replace its heating system, radios and hoses for its trucks.

Councilors Tony Meier and Cliff Lauder said they would support asking voters to approve that levy and not pursue funding for the library.
"We are going to ask the citizens of Falls City to give up money, and I believe that the fire department and the streets are more important than the library," Lauder said.
He added, and Meier agreed, that putting both levies on the ballot risked failure of both.
Ungricht said closing the library wouldn't mean all library services would disappear, and the city is working with the county to establish a van route between Falls City and Dallas that could take people to the Dallas Public Library.
Councilors Lori Jean Sickles, Charlie Flynn and Dennis Sickles said they were uncomfortable not putting Wagner Library funding on the ballot after making a pledge to do so last month during a joint meeting with the Falls City School District.
"This coming up with the fire department and the streets is brand new. It wasn't discussed at that time," Dennis Sickles said. "I'm uncomfortable dropping the library thing after the meeting that we had. I'm not saying I'm uncomfortable doing a levy for the streets and the fire department."
Meier noted no official vote was taken to proceed with the library levy.
"It's also our jobs to really set priorities and, to me, the fire department, especially the fire department, is a priority," Meier said.
"To me, when you say you are going to do something, that's a priority," Lori Jean Sickles responded.
Flynn made a motion to include both on the November ballot, and it was approved unanimously.