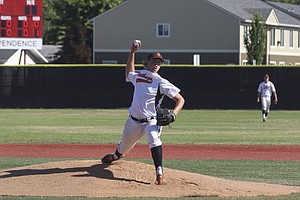 MONMOUTH — There's usually one thought going through pitcher Jaret Stewart's mind during a game: Location, location, location.
"Batters have trouble hitting my pitches," Stewart said. "I love when I'm able to be in that zone when I know I can get a batter out."
Stewart's location wasn't at its absolute best on Sunday — but it was more than enough to help the Post 20 Dirtbags defeat the Withnell Dodgers 5-4 in the first game of a three-game series.
For Stewart, an incoming senior at Dallas High School, pitching is what he's always known as a baseball player — and it gives him a sense of control that he craves.

—
Stewart keeps himself busy throughout the school year, playing football in the fall and basketball in the winter.
But baseball has always had a special place in his heart.
"I just love it," he said. "I was decent as a kid, and, as I got older, I fell in love with it, and it's my favorite thing to do now."
Since he started playing around the third grade, pitching has always attracted him. He made varsity his freshman year with the Dragons and has thrived under pressure.
"I love having the ball in my hand, having those game moments in my hand," he said. "I feel like I can control the game. In other positions, you can't control the game as much."
Pitching allows Stewart to be involved in every play on defense.
And while he has power and speed with his pitches, it's his location that has proven to be his greatest strength.
"When I was younger, I struggled throwing strikes," Stewart said. "But coaches focused with me on being able to hit my spots, and I know my defense will make plays behind me."
Today, Stewart shows off impressive command of his pitches. Facing some of the state's best baseball players is giving him new levels of confidence.
"I know that I'm playing the best kids in high school baseball," Stewart said. "If I'm able to get these kids out, it will help me when I play next season to know that I can get anyone out."
Coach Scot McDonald has seen firsthand Stewart enter as a talented, but raw, freshman, to one of the pitching staff's most reliable arms.
Stewart's success on the mound has been coupled with success by the Dirtbags.
The Dirtbags entered Monday tied for first place with the Mid-Valley Southpaws in the American Legion standings.

"I thought we competed well (on Sunday), and I think we have played very good all summer," Stewart said.
The Dirtbags will compete in a state regional on Friday and Saturday. The American Legion AAA state tournament begins July 26.
"We start well, and we turn it on when we need to at the end of games," Stewart said.