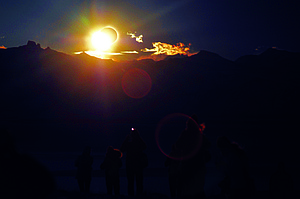 POLK COUNTY — We could have thousands of visitors for the days before and after the Great American Eclipse on Aug. 21.
Travel Oregon estimates that up to 1 million people will travel to Oregon, and plenty of Oregonians outside the "path of totality" will travel to the Mid-Valley to see the full eclipse.
Eclipse survival planning
With a deluge of visitors traveling to the path of totality for the Great American Eclipse, the weekend of Aug. 18-21 will be far from business-as-usual here in Polk County. Here are a few ideas to keep in mind to make sure you enjoy the experience, too:
Fuel up your car, go shopping early and don't forget to stock medications. What would be a quick trip any other weekend of the year may turn into a lengthy excursion, so plan beforehand. Remember to buy enough groceries and supplies to make it through the event.

Reschedule appointments, especially those on Aug. 21, or if you can't, practice patience. Most trips will take much longer than normal. Oregon Department of Transportation estimates two to three hours to get where you are going.

Use common sense if attending an eclipse celebration event. Prepare your kids by going over safety rules and what to do if you are separated. If bringing the family dog, make sure your event of choice is pet-friendly.

Take only what you need with you to events and don't leave valuables in your car.

Keep in touch with local resources, such as your city's website and social media pages, and state agencies like ODOT for updates.

Keep your phones or mobile devices charged.
— Source: city of Salem
That means those of us lucky enough to live here need to be ready to deal with — or avoid — the inconveniences that may arise from having that many guests.
Prevent fires during eclipse frenzy
Prevent fires during eclipse frenzy
Fire season will be in peak season when residents, as well as up to 1 million visitors will participate in Great American Eclipse viewing events in the path of totality. About 70 percent of wildfires are caused by humans, so Oregon Department of Transportation provided the following tips to prevent causing a fire while out eclipse watching.
Stay off the grass. Avoid parking or idling on dry grass. Vehicle exhaust and dry vegetation is a dangerous combination.

Stay on the road. Off-road driving is prohibited in most areas during fire season.

Be prepared. Keep a cell phone, water, a shovel and fire extinguisher with you in case a fire starts.

Secure tow chains. Make sure all vehicle parts are secure and not dragging. A loose safety tow chain or muffler striking a rock or pavement can send a shower of sparks into dry vegetation.

Check your tires and make sure they receive regular maintenance. Once a flat tire shreds, the bare wheel can shower sparks on roadside vegetation.

Maintain your exhaust system. A worn-out catalytic converter can cast off extremely hot pieces of material into dry roadside vegetation.

Check underneath your car. Make sure it's free of oil leaks and that fuel and brake lines are intact.
For more eclipse travel tips and links, visit www.oregon.gov/OD...
"It can be really enjoyable if we prepare," said Travel Salem spokeswoman Kara Kuh.
People travel from all over the planet to see solar eclipses, so it's to our community's benefit, economically speaking, to show our visitors a good time in hopes they will return, said Dallas Economic Director AJ Foscoli.
"It both excites me and scares me to death," he said. "Because that means we will have 7,000 new people coming in to see what a great community we have. And if we show ourselves well enough, maybe they will want to come back."
He said thoughts of people having a bad experience are "keeping me up at night," and pushing him to work with all the groups involved to make sure the best of the town is showcased.
"It's truly a unique opportunity to have that many people come to our community," he said. "A lot of the time we have to work so hard to get people to come. They are coming on their own just to stand there and be in the dark."
Planning is key to making eclipse weekend more bearable, Kuh said.
"If residents do their shopping three or four days before the eclipse, they won't be struggling against the crowds," Kuh said.
She said people should consider limiting their travel in the days around the eclipse by moving unnecessary appointments to another time.
"If you have appointments, just don't," she said. "You will thank yourself for that later."
Kuh said people should expect that cell service may be spotty and travel lengthy, but nothing apocalyptic is predicted to happen.
That said, if you are driving somewhere unfamiliar to watch the eclipse, you may want to print out directions just in case you can't get service.
"Nobody prints out directions anymore, but it's a good back up," she said.
Most of all, Kuh said people shouldn't get so caught up in the hassle that they can't appreciate the spectacle that is a solar eclipse.
So, remember to get a pair of viewing glasses and take a minute — or two in this case — to see what other people have traveled miles to experience.
"It's an interesting phenomenon," she said. "Take a minute to enjoy it."