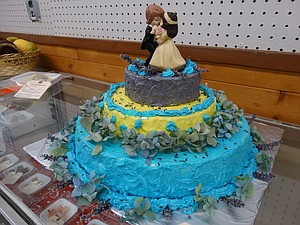 POLK COUNTY — It's the ultimate choice at the family barbecue: chocolate cake or apple pie?
Why not both?
A contest at the 2017 edition of the Polk County Fair gives people a chance to pit their secret family recipes for the two dessert classics against those of other bakers.
The Best Chocolate Cake and Best Apple Pie contests are the latest additions to the fair's open class competitions.
You don't have to register ahead of time for the contests, just bring your best effort to the fair on Aug. 12.
"They are bringing them that day, and we are going figure out some really awesome (local) celebrities to come judge it," said Polk County Fair Board Chairwoman Anna Scharf.
Entries are accepted starting at 12:30 p.m., and judging starts at 2. Your cake or pie entry gets you free admission to the fair. Contestants 15 and younger entering the contest get admission from themselves and one adult.
Grand prizes are $50 gift certificates to sponsors Ovenbird Bakery in Independence (apple pie) and Nicky B's Cakes of Dallas (chocolate cake).
Baking not your strong suit? There are plenty of other contests at the fair, from food categories to art to growing flowers.
The poetry contest entries are taken Wednesday (today) from noon to 8 p.m. at the fairgrounds office, 520 S. Pacific Highway (99W), Rickreall.
Fine Arts, photography, textiles, crafts, youth arts and crafts entries are due Aug. 7.
Foods categories, including the new Pinterest contest, are due Aug. 8.
For that contest, just print the pin and bring it with your dish.
Floriculture, grains, honey, forestry, fruits, nuts and vegetable entries are due Aug. 9.
For more information about the contests and entry guidelines, go to: www.co.polk.or.us/fair/annual/2017-polk-county-fair.