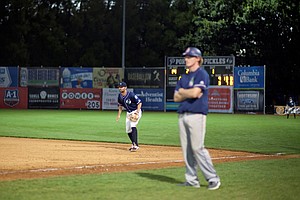 PORTLAND — There's a motto that Western Oregon's baseball coaches teach their players: This pitch.
"We play each pitch like it's the last pitch we're ever going to play," junior Koty Fallon said. "We have to give 150 percent. Don't look ahead. Don't focus on anything else but this pitch."
Fallon is taking that motto to heart and hopes that it will one day lead him all the way to the big leagues.
—
Some kids grow up idolizing athletes. They dream of being the star, winning a title and celebrating with fans and teammates.
Fallon has dreams of playing professional baseball.
But it wasn't a star athlete that inspired him.
Fallon's father, Jeff, has served as a scout for the Chicago Cubs and Los Angeles Angels of Anaheim for the past decade.
"I've been around the professional baseball atmosphere about my whole life," Fallon said. "The passion I saw in my dad, it couldn't help but rub off on me and my younger brothers."
That meant getting to go on scouting trips and an insider's view of how a piece of the Major League Baseball operation is run.
Baseball wasn't just a shared hobby; it was their lives and literally helped pay the bills.
Along the way, Fallon became passionate — if not obsessed — with the sport.
"(My passion) is honestly the same that (my dad) has," Fallon said. "I lose sleep at night thinking about how badly I want to make it."
He knows it will be a long road, but he doesn't shy away from that.
"Looking at the big picture, it's almost too overwhelming," he said. "You take it step by step and you think only of 'this pitch.' Whether that 'pitch' is hitting the gym and giving 150 percent and not worrying about what I have to eat later or if I have to hit later. That definitely helps."
Fallon appears to be headed on the right track. As a sophomore, he showed development and had 16 hits and 10 RBIs in 58 at-bats.
This summer, he's playing for the Portland Pickles in the Great West League, a summer collegiate wood bat league.
Fallon was named the league's Player of the Week after going 10-for-19 with two home runs and 15 RBIs, including nine RBIs against Yuba City on July 16.
"I've learned to slow it down, especially at the plate," Fallon said. "You have to take your time. We play almost every day, compared to college when we play one doubleheader on Saturday and one doubleheader on Sunday. I think we have, like, five days off in the (Great West League) season. Getting used to that grind and finding the right balance of resting and continuing to work out is key."
Fallon said it took him a few weeks to find a happy medium between rest and pushing himself to his limits, while still being able to perform at a high level.
Once the summer season is over, Fallon is headed home to Arizona to workout and get ready for the 2018 season at WOU.
Fallon's path to Monmouth may not have seemed likely at first. Fallon had never been this part of the state, and he didn't know anything about the area.
"I knew I wanted to get out of Arizona," he said. "Western came down and saw me in a tournament and offered me a scholarship. I didn't know anything about Monmouth. I could tell it was a smaller city when I visited, but I didn't know what Monmouth was all about, but I went with my gut, took a shot in the dark and said yes."
He hasn't regretted the decision, even falling in love with the rain — for the most part.
"People here know your name because you're on the baseball team," Fallon said. "That's awesome. The biggest difference is the rain. Coming from where it's sunny every single day, besides August when we have monsoons, I used to always love when it rains in Arizona. I got here and when the winter comes and it rains all the time, I just thought it was amazing. Although, sometimes it gets hard when it rains every single day."
Fallon is eager to show his coaches and teammates how he's progressed as a player. He gives WOU versatility with experience playing first base, third base and catcher. And a change in approach at the plate has made him a more dangerous batter than ever before, he said.
"I've learned so many different swing mechanics growing up, but no one taught me the mental side of hitting," Fallon said. "Not until this summer did I start picking that up. I've been asking teammates how they approach hitting, what pitches they sit on, etc. Hopefully, I'll be able to turn that into having the same success they do."
His experience playing multiple positions means Fallon provides the Wolves with a versatile player who can fill in a number of different roles.
"I want coach to put the best lineup out there so we can win," Fallon said. "Anywhere he needs me to go, I'll play."
Fallon knows each step he takes forward is one step closer to his ultimate goal: playing in the major leagues.
It will take time, dedication and overcoming more than a few setbacks, but it's a dream he's not willing to let go.
"My dad is a scout; I've played baseball and my younger brothers both play baseball," Fallon said. "Baseball has always been the one for me."