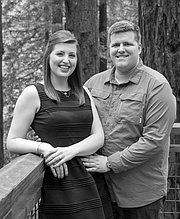 Margi Anderson, of Dallas, and Rob Brumley, of Wilsonville, announced their engagement. The couple is planning an Oct. 28, 2017, wedding.
Bride-to-be Margi graduated from the Oregon Health and Sciences University-Oregon Institute of Technology in 2016 and works at Salem Hospital.
Groom-to-be Rob graduated from Oregon State University in 2014 and works at Nike Headquarters.
The wedding will be at Langdon Farms.