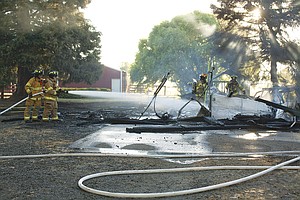 INDEPENDENCE – Sharon Tebb gazed out a window of her home in the 8200 block of Buena Vista Road Monday evening and saw something unexpected -- and frightening.
"I looked out the window and saw flames," she said.
A fire had started in the home's detached garage. Sharon and her son sprang into action.
She caught the fire early enough to get cars out of the garage
"We were able to do that immediately," she said.
They set up garden hoses in attempt to put out the blaze themselves, but to no avail.
Sharon yelled for her husband, who was also home at the time, to call 9-1-1.
Firefighters from Polk Fire No. 1, Southwest Polk Rural Fire Protection District, Dallas Fire & EMS, Salem Fire and Adair Fire arrived and worked to save the Tebbs' home.
Polk No. 1 Chief Ben Stange said the call came in at 6:22 p.m. When the fire units arrived, the garage and sheds were being consumed by flames.
"They were fully involved when we got here, so our goal was to protect the home." Stange said.
He said Sharon's husband was still in the home and needed help evacuating. Firefighters also got the family's dog out of the house.
"We transported the son to the hospital, for probably more exhaustion of trying to combat the fire before we got here with a garden hose and trying to get his parents out of the house than it was a medical issue," said Polk No. 1 Capt. Mike Rusher, who oversaw the scene.
He said the house suffered some scorching on the outside. The cause of the fire is undetermined, Rusher said.
Looking over the destroyed garage, Tebb expressed appreciation that fire crews protected her home.
"Thank God," she said.

Polk No. 1 also received assistance from a Yamhill County fire crew that placed a unit at the district's Independence station while firefighters were out on the Buena Vista Road fire.