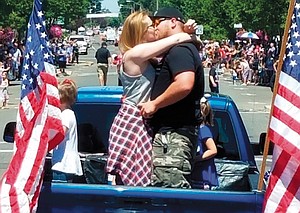 INDEPENDENCE — Independence woman says 'yes' to proposal during Fourth of July traditionRain or shine, they've been there to take in the small-town spirit and atmosphere.
It's safe to say the 2017 parade will stand out as their favorite.
Shane Johnson was enjoying the parade with his girlfriend, Emily Nelson, riding on one of the floats. It was Nelson's first time being part of a parade.
As the float rounded into view of Shane's family, he got down on one knee.
"I was shaking," Emily said. "I was very, very nervous because my family was watching and everyone was there. It was really exciting. It was such a perfect way to say 'welcome to the family.' I'm glad I got to be a part of it."
Moments later, Shane and Emily were officially engaged.
"I'm not the kind of guy who gets nervous or anxious," Shane said. "I tried to look at it as another day. A lot bigger day, but just another day."
—
Emily and Shane first met two years ago. The attraction to each other was almost immediate. There was just one thing holding them back.
"We texted for six months before we met (in person)," Emily said. "I got sick two months into texting. I was sick for like, three months, and I was in the hospital for 15 days. There was no way I was meeting someone that I liked who had no idea what I looked like when I was sick. We had to wait until I healed."
The wait was excruciating — but the couple kept a belief that the feelings they started developing for each other were real — and that things would work out just the way they were supposed to.
"It's nice to really know someone before you meet them," Shane said. "You always hear people say looks aren't everything, but you don't really get that until you know somebody before."
When the two finally laid eyes on each other, it was all icing on the cake and before long, they were falling in love with each other.
By the time 2017 hit, Shane was thinking about their next step together.
"I bought the ring in April," Shane said. "I had been kind of planning it since then."
At the time, he was considering proposing during the parade or during a trip to Las Vegas in September to celebration Emily's 21st birthday before deciding on the Fourth.
"I wanted to do it right in front of my family," Johnson said. "I wanted to do it at that moment with everyone holding signs helping us out."
The couple hasn't picked out a wedding date yet, but said the reception will be a more casual affair.
For now, they're still basking in the glow of knowing they will be each other's "for better or for worse."
"It is different," Emily said. "You don't think it would be different because nothing has changed. I've always trusted him, but now that it's permanent I don't ever have to second guess what we're doing. This is what I want, this is what he wants and it'll come together eventually."
"It always does," Shane said.