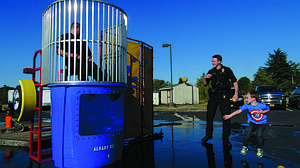 POLK COUNTY — Tuesday is National Night Out, an annual campaign promoting relationships between communities and their police and fire agencies, and several neighborhoods and groups are hosting events around the county.
Dallas: Neighborhood gatherings and block parties are taking place at Countrywood Manor in the community room, on Hayter Street, on Academy Street, on Nottingham Lane and on Hankel Street, said Britneigh Gaetz, the Dallas Police Department's police community liaison.
"This year, our participants have put together their events in their neighborhoods, in their front yards or community centers," Gaetz said.
She said 20 homes will be participating in "blue light night."
"They have been given blue light bulbs to replace on their houses for this one night and show support for NNO, as well as local support for the Dallas Police Department," she said.
Gaetz said she hopes to see attendance at NNO events grow this year.
"We're hoping this brings more people on the night of, therefore gaining more participants for the following years," she said. "It's also a fun way to keep our community members aware of their local Neighborhood Watch groups."
Falls City: Last year, the Falls City Fire Department held its first NNO event, hosting games and activities for the public at the fire station. This year, the department is expanding, renting the Community Center and closing part of Third Street for a block party. The event takes place Tuesday from 5 to 9 p.m.
Representatives from Polk County Sheriff's Office, Willamette Valley Communications Center 911, Life Flight Network, and the local Neighborhood Watch group will be at the event to provide information and participate in games with children, wrote Assistant Fire Chief Mary Sykes in a description of the event.
Life Flight is scheduled to land a helicopter on the high school football field.
"We believe that we will receive about 100 visitors spread out over the four hours of the event and the two event sites," Sykes said. "We strongly believe this event will be beneficial to the community, as well as a lot of fun and educational."
Sheriff Mark Garton said he attended Falls City's first NNO event last year.
"This is the second year they are doing. It was fun," he said. "They had all kinds of games going on."
Garton said Neighborhood Watch groups in other parts of the county are hosting events as well, including groups on Oak Grove Road, Salt Creek Road and Eola and Doaks Ferry roads neighborhood.
Monmouth and Independence: Monmouth and Independence police departments will host a joint National Night Out at the First Baptist Church, 1505 Monmouth St., Independence.
The event will be from 5 to 8 p.m. on Tuesday and is open to the entire communities of Independence and Monmouth.
"A (National Guard) Lakota Army helicopter will come and sit there for the kids to come crawl around on," said Independence Officer Eric Solberg.
Polk County Fire District No. 1 personnel will be there and have a fire demonstration, where kids — and adults — can try their hands at using a fire hose to put out fires in a wooden cutout structure.
Koyotes will be there for the second year, with the first 100 tacos free. After that, tacos will be available for purchase.
The event will also feature Polk County County Emergency Response Team members dishing up sno cones and popping corn. McGruff the Crime Dog will also make an appearance.
Solberg said there won't be a dunk tank this year for the supervisors, but thinks the National Guard's Lakota helicopter will make up for it on the fun scale.
"It should be a good time," he said.