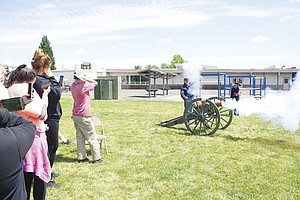 Sons of Norway to celebrate Grieg
The Thor Lodge of the Sons of Norway will celebrate the life and music of Norwegian composer Edvard Grieg Saturday at 6:30 p.m. at the West Salem Masonic Lodge, 1625 Brush College Road NW, Salem.
Organist and composer Dr. Greg Bowers will lead the program.
An ice cream social and presentation will be given.
The event is open to the public. There is no cost to attend.
For more information: 503-302-7973.
Senior Center to host cooking class
Monmouth Senior Center, 180 Warren St. S., Monmouth, will host Cooking with Chef Gayle Jolley Thursday at 11:30 a.m. The class, titled Men Make Meals, will include recipes like white fish fillets with citrus, olives and capers; couscous with herbs and lemon; and a surprise dessert. Women are welcome to attend.
Cost is $8.
For more information: 503-838-5678.
Coast Guard Aux offers safe boating
The U.S. Coast Guard Auxiliary will offer an Oregon Safe Boating Class Saturday from 9 a.m. to 4 p.m. at the Salem Elks Lodge, 2336 SE Turner Road, Salem.
The cost is $15 and includes all materials and lunch.
The class is open to those ages 12 and older. Applications for Oregon boater cards will be available after attending the class.
Riverview Farmers Market adds a day
The Independence Riverview Farmers Market will add an additional day. A community market will be open Tuesdays from 1 to 6 p.m. at the top of Riverview Park in Independence.
The market is also open Saturdays from 9 a.m. to 2 p.m.
For more information: www.independence riverviewmarket.com.
EAA Young Eagles rally Saturday
The EAA Young Eagles Chapter 292 will hold a rally Saturday from 8:30 to 11:30 a.m. at the Independence Airport, 4803 Airport Road, Independence.
Young Eagles will receive ground school training, a free flight, a picture and an official EAA Young Eagles certificate.
Wait time will depend on the number of pilots available and the number of people attending.
Young Eagles must have a registration form signed by a parent or guardian to participate in a flight.
Forms will be available at the event.
There is no cost to attend.
The Young Eagles program gives youth ages eight to 17 an opportunity to learn about aviation.
For more information: www.eaa292.org.