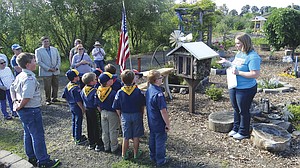 INDEPENDENCE — A new structure graces the grounds of the children's garden at the Inspiration Garden at Mount Fir Park in Independence.
It's a Little Free Library disguised as a fairy house, not containing small, winged residents, but instead books that can take a reader to magical places and other worlds.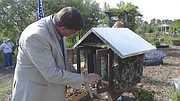 The newest little library in Independence was dedicated on Friday evening by the creators: The Pack 38 Cub Scouts. The project was part of the boys' achievements throughout the year.
"Generally we stick to planting trees and cleaning spaces, but this year we had an idea that maybe we would want to build a Little Free Library," said Den Mother Abby Fitts. "One of the Den moms, Tracy Swanborough, sort of took it and went running with it."
The boys, all first- and second-graders, talked about the values of reading, Fitts said.
"Hearing the boys talk about, from their own experiences even as a second-grader or first-grader, what reading means: To learn, to grow, or to have an idea, or get lost in something for just a little while, inspired me to help inspire them," she said.
The young Scouts let their imaginations run wild with the plans for the little library. Initial design ideas included a shoe, a log cabin, a Pinewood Derby car, a snake conveyer belt, and a little library at the top of a ladder that people would have to climb to get a book. Some of the ideas — though creative and fun — got stuck in figuring out logistics.
"The boys came up with all sorts of amazing ideas on how to design this little library," Fitts said. "Some had dinosaurs pooping out books. It was really creative, but we went with a fairy house."
Independence Children's Librarian Jo Hall said it was exquisite.
"They have one of my favorites, a big volume of Curious George," Hall said.
Independence Mayor John McArdle was on hand to help with the ribbon cutting ceremony.
"You helped make this the heart of our community," McArdle said. "You know, sometimes people say kids can't do anything. But I want to tell you, look what you guys have done. All of you working together have provided a little library. You got your moms and dads to help — which is a good thing, recruiting others to help — and you planted flowers. You've made a positive difference in the community both today and tomorrow."