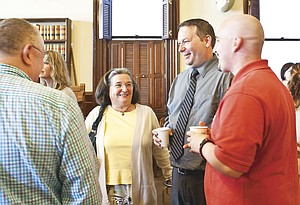 DALLAS — Polk County's new Mental Health Court, or Friday Court, helped give Anthony Brown and Kelly Fields their lives back.
Brown and Fields are the first two graduates of Friday Court, which began April 1, 2016. It was formed to help those charged with crimes whose actions were caused in part by symptoms of mental illness.
A team including representatives from Polk County Circuit Court, the Polk County District Attorney's Office, Polk County Behavioral Health, Community Corrections, the Polk County Board of Commissioners, and law enforcement and defense attorneys, met for about a year to design Friday Court, modeled after similar programs in Marion and Clackamas counties.
Polk County Circuit Court Judge Norm Hill said the intent was to break the cycle of defendants committing crimes, getting sentenced to probation, failing to get treatment, and then committing more crimes.
Friday, during Brown and Field's graduation ceremony, Hill said he's seen proof that has worked.
Fields, 38, the first participant in the program, started when he was in recovery and receiving treatment with the help of his family.
"But this is not easy. Kelly, you struggled with some personal things," Hill said. "You had challenges that you overcame. You never looked back. You moved forward through each of the steps. I know other members of the program looked up to you as a role model."
Robin Rogers, Field's mother, said that stands in contrast to where her son was not that long ago.
"Kelly was here in the Polk County Jail for six weeks and, during that time he was, in my opinion, psychotic," she said. "He had delusions and he heard voices. He had all the symptoms of schizophrenia. At that time, the program hadn't started yet."
During his time in jail, he wasn't receiving treatment and had to be placed in solitary confinement, said Robin's husband, Brett Rogers, Field's stepfather.
"I said, 'How is it that this kid was locked up when he obviously had significant mental illness issues,'" Robin recalled thinking then. "At that time, that was what happened."
He was released, but found himself in the system again later. This time, he was placed with Friday Court.
"It was amazing. I just can't say enough good things about the program," Robin said. "My son today — through their help, their guidance, through their medication management — they have just turned him around. I'm so grateful to this."
Sen. Brian Boquist, the keynote speaker for Friday's graduation, said Polk County's program is an example of progress.
He said recent statistics indicate 48 percent of Americans will experience mental health care issues.
"Finally, for once, in this country we are starting to realize half the population has this issue and that is not something to be hidden in the state mental hospital. It's not something, when I was a kid and your parents had a mental health problem, like my mother did, that your family was stigmatized," Boquist said. "That's gone. What we are now starting to realize is that there is a lot more work to do."
Polk County is making strides.
In addition to Friday Court, the Polk County Jail now has a mental health counselor on staff and two mobile crisis response teams that pair counselors with law enforcement to respond to calls.
Boquist said state lawmakers are working on legislation to make access to mental health care easier. He told the program's eight other participants — who attended Friday to support Fields and Brown — to see this chance as a path forward.
"Even though it's the first day of a bright future for two of you, there's still a lot of work to do," Boquist said.
Brown, 32, said he is well aware of that, but said the program gave him confidence.
Brown has severe agoraphobia. Cindy Thomas, the program's therapist, said that at first, Brown couldn't leave the house without earphones and would stare at the ground.
His defense attorney, Tim Park, had his doubts about whether Brown would succeed.
"When we resolved (his case) — I haven't told you this before — but I was really scared that you weren't going to make it," Park said. "I've got to tell you, I have never been happier to be wrong."
Brown said he will take his future one day at a time. He's working and shopping on his own and spends time with his children.
"It gave me back my life," Brown said. "It showed me how to set realistic goals and achieve them. It taught me how to build a foundation for my life."
Without Friday Court, he said that wouldn't have been possible.
"I would either be dead or in prison," he said. "Those were the only two options for me. It saved my life."