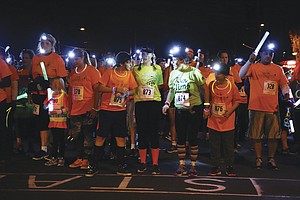 DALLAS — The person who fills the city of Dallas' recreation coordinator, a position restored to the 2017-18 budget, would be expected to organize activities from wine events to running ones, and for an age range of toddler to senior citizen.
City Manager Ron Foggin outlined the details in a Dallas City Council workshop Monday, saying the position is part-time at 25 hours.
"My goal for this presentation is to help the city council better understand what the position is being asked to do and demonstrate there is enough work for 25 hours a week," Foggin said.
He said the coordinator wouldn't focus solely on physical activities, but cultural events, after-school and summer programs.
Foggin said this year's citizen survey found residents believe there's something to be desired in the recreational arena.
"We have some room for improvement with culture, with things for adults to do, and just in general with recreation," he said.
Foggin said the job description has been refined from the former coordinator's duties.
He said the person in this role would market programs and collect feedback on them; seek sponsorship, donations and grants; recruit volunteers to help with programs; and work with all community recreation groups and the Dallas School District.
He said among the projects the coordinator will assist with are: Tuesdays on the Square, the Great American Eclipse, multiple 5K fun runs, and state Parks and Recreation Department grant submissions.
He said another responsibility of the position is developing ideas for new activities.
"One of the things I think we are missing in the community on the event-side of things is that we don't have a wine harvest or just kind of general harvest celebration in the fall," Foggin said. "How the events are set out, there's not a lot happening in the October timeframe, so there's an opportunity there."
The workshop was held at the request of councilors Jackie Lawson and Micky Garus, who said they wanted more information on the position.
The Dallas Budget Committee voted to restore the position in the budget last month.
It had been vacant since late 2016 and was not included in the initial 2017-18 budget proposal.
"This was to get more information about this position so we could have a better-informed decision about how we are going to vote (on the budget) and whether or not we wanted to make adjustments to hours allotted to this position," Garus said.
He said after Foggin's presentation that he didn't think the position is necessary.
"I don't see anything on this list that isn't already being done today in this community," Garus said. "There's nothing on that list that isn't going to happen if we don't have this person. You call it 'work to be done,' but that work is already being done by the multiple volunteers."
He said Tuesdays on the Square are already in the works and the eclipse event is being organized. Kids Inc. is ready to take over the city's "Mighty Mites" program for preschool-aged children.
Lawson asked about Economic Development Director AJ Foscoli's role in wine and art events.
"Wouldn't that be economic development? That's not the recreation coordinator's position," she said.

Foggin disagreed, saying Foscoli's involvement with the wine industry would be more commercial, such recruiting wineries to open a tasting room or buy industrial land for production.
Lawson said 25 hours per week was too much, suggesting reducing the hours until the person who takes the job can show he or she can develop new programs.
"If we start at 25, then all of a sudden, the expectation would be that they would be needing more and more and more hours when we are not actually seeing productivity on what we were getting in a salaried position before," she said.
The council adopted the 2017-18 budget on a 6-3 vote, with Garus, Lawson and Councilor Paul Trahan voting no.
In other business, the council approved a resolution increasing rates at the Dallas Aquatic Center. The increase amounts to an average of 10 percent across the board.