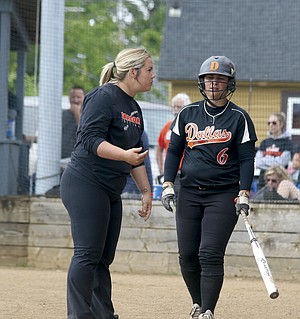 Williams to hold free football camp
MONMOUTH — Western Oregon football alum and wide receiver for the Los Angeles Chargers Tyrell Williams will hold a free offensive skills camp June 29 from 10 a.m. to 2 p.m.
The camp will take place at WOU and is open to quarterbacks, running backs, wide receivers and tight ends in grades seven through 12.
Williams will present along with Western Oregon football players.
The camp is limited to the first 150 students.
To register: GameOnTY16@gmail.com.
Cross Creek men's club results
DALLAS — Cross Creek's men's club results for May 30:
Low gross/net
Gross: 1, Mike Largent, 30; 2 (tie), Ted Bennett, Bill Karjala, Ken Dankenbring, Jim Schroeder, Lee Gamaney and Terry Reed, 32.
Net: 1, Jason Fahlman, 21; 2 (tie), Al Fahlman and John Mangini; 4, David White, 26; 5, Lynn Hurt, 27; 6 (tie), Glen White, Dave Voves, Vern Smith, Bob Bennett, Brian Reed, Ken Ross and Derrill Weever, 28.
Booster Club to offer sports physicals
DALLAS — Dallas Booster Club will hold sports physicals on June 19 from 6 to 8:30 p.m. at Oregon Family Health, 607 SE Jefferson St., Dallas.
Cost is $25 (cash or check only) and proceeds will support Dallas High School athletics.
Please arrive by 7:45 p.m. so physicals can be completed by 8:30 p.m.
Student-athletes need a sports physical once every two years. Pop Warner requires yearly physicals.
Forms will be available on site.
WOU softball camp registration open
MONMOUTH — Western Oregon softball will host its annual Elite Softball Camp June 19-21 at the WOU softball field. The camp will run from 1 to 4 p.m. on June 19 and 9 a.m. to 3 p.m. on June 20-21. An optional session from 9 a.m. to noon on Monday will also be available.
The camp is aimed at working with softball players entering ninth through 12th grades.
Camp instructors will work with individuals on all aspects of the game with a emphasis on preparing athletes for advanced-level competition with the chance to showcase skills to WOU coaches and possibly other colleges.
Cost is $225 per person and includes a camp T-shirt and shorts.
Registration is available online at www.wou-wolves.com/documents/2017/5/9//SB_elite_camp_flier_updated_2_1_.pdf?id=2168
For more information: Mo Jimenez, 360-910-1939.