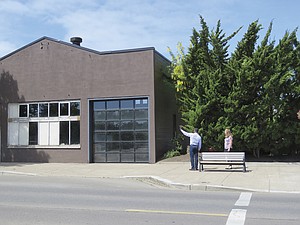 INDEPENDENCE — The old warehouse building on South Main Street in Independence called out to Yul Provancha years ago.
"I drove by the building for 20 years and just said, 'wow, I want that building,'" Provancha recalled. "When I bought the building, I just knew it would be different and it would be good for the community."
With help from a $100,000 Oregon Main Street grant, Provancha is going to turn the building into Boom Town Brewery. He hopes to open the new brewery and restaurant before the Fourth of July 2018.
"The building just kind of said, 'Hey, make me into a brewery,'" Provancha said. "I probably wouldn't have done it if it wasn't in my blood."
His family comes from France and Scotland, he said. The French side is a line of winemakers, but the Scots were brewers.
"My mom has the heritage of beer, and my dad's side is the heritage of wine" Provancha said. "So I've been brewing and making wine for 25 to 30 years."
The building will include a full-service, family restaurant with outdoor seating.
"We're going to make beer, kombucha, ciders," he said. "We also have two different levels of rooftop seating. You can be outside, look at the stars and watch performances down in the little amphitheater."
In the courtyard, Provancha is building a 13-foot waterfall and living wall, as well as an amphitheater for performances and productions.
"We're hoping to have live music daily," he said. "It will be the first brewery in Independence and Monmouth."
In fact, it will be in a category of its own, as most breweries are not located in a downtown area, said Imani Hall, Independence Downtown Association manager.
"A lot of them are in industrial areas," he said. "They're great breweries, great locations, great places to eat, but they're destinations. You have to go there to go to the brewery."
Having a brewery downtown will benefit other businesses, Hall said.
"People will maybe go to the brewery, then maybe go to the movie theater, then maybe go downtown and get a late-night snack," Hall said. "We think there's a lot of possibilities having this brewery downtown."
It also will help connect the north and south parts of downtown, he said.
"Pretty much from Mecanico to Umpqua Bank is the main portion of our Main Street; however, city hall got built farther along on Main Street, farther south," Hall said. "The goal in doing that was to help extend Main Street to city hall. We think this is a key location on the southern part of Main Street and will bring activity to that area, as well as development."
The grant money, through the Oregon Main Street program, part of Oregon Heritage, which is part of the Oregon Parks and Recreation Department, is a reimbursement grant, meaning Provancha may be reimbursed for renovations.
"He has to have the money already," Hall explained. "We'll reimburse him once a needed renovation is done."