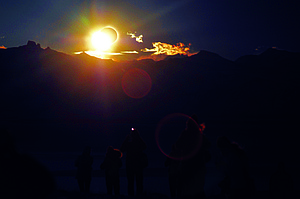 INDEPENDENCE, Iowa — Eric Smith is far from an eclipse expert.
"I think I recalled back to hearing something when I was in first grade, but that was a long time ago," Smith said with a chuckle.
But the Great American Eclipse has been on the Smith family's radar for several years now — all thanks to their son, now 17.
"Three or four years ago, he first picked up on this eclipse," Smith said. "He's talked about it since. We thought it sounded very interesting and unique."
The Smiths will be headed to Monmouth come August to take in the view, but the trip will also serve as a homecoming.
Eric graduated from Central High School in 1990 and his parents still live in Monmouth.
The chance to see a unique event in their old backyard was too good to pass up — even if it meant a tight schedule.
"The eclipse is on Monday, we fly home on Tuesday and school starts on Wednesday," Eric said. "We considered staying closer to home but it seems like a good opportunity to see my parents."
The Smiths will arrive early to take a trip to places across the state, including Crater Lake, and will arrive in Monmouth on Saturday.
The Smiths have done their research and Eric, his wife and three children, are excited to be a part of something that people across the country will be flocking to.
"It'll be our first experience with this whole eclipse thing," Eric said. "We've been paying attention to some of the feeds on eclipse websites, and it seems like it's something people will be taking advantage of."

Whether the Great American Eclipse inspires the Smiths to become eclipse chasers remains to be seen. But Eric said they are excited to share the moment with loved ones.
"You read about it, how people in ancient times didn't understand why the sky went dark," Eric said. "To experience something they've only read in literature will be awesome. I think it's pretty cool that there will be three generations of Smiths experiencing the eclipse."