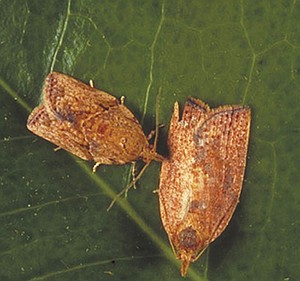 INDEPENDENCE — The Oregon Department of Agriculture will begin the process of spraying for the invasive light brown apple moth in an area south of Independence next week.
A small population was found there in 2015 and again in 2016.
Department officials said the best time to eradicate the fruit-feeding pest is now.
"The discovery of an incipient light brown apple moth infestation in Polk County has create a need for action to mitigate the problem as soon as possible," wrote ODA director Alexis Taylor in the record of the decision last month. "Since the infestation is relatively small and well-defined, prompt action now can eliminate the danger of further light brown spread."
Richard Worth, a ODA entomologist, said the moth probably hitched a ride on plants from California, where it's present in several counties.
"It can move here very easily from California," Worth said. "Once it's over the mountains and here in the valley, it can survive."
Worth said the moth has a wide range of plants it attacks, specifically those in the rose family and fruit trees, including cherry and apple.
"It can directly damage fruit externally, causing it to dry out and shrivel," he said. "It mostly defoliates trees. It feeds on the leaves."
He said finding the moth in 2015 and 2016 signaled that the moth is surviving in the area and needed to be eradicated.
"It doesn't seem to spread real fast, so that gives us time," he said.
On its own, the moth travels only about a half-mile a year.
"It's a small moth and a weak flyer, so it doesn't do long distances on its own," Worth said.
It can be carried by the wind and travel in the egg and larvae stage on plants.
The moth species originated in Australia and been established in Great Britain, Ireland, Hawaii, New Caledonia and New Zealand, according to ODA. Its presence was confirmed in California in 2007.
The light brown apple moth is small, with a wingspan of 2 centimeters, and has a dull orange color. Worth said they look very like some native moth species.
Worth said the moth has been a damaging pest to apple crops in New Zealand, where they used pesticides to battle it, only to find the moth developed resistance.
ODA is using different treatment protocol.
The 500-acre infestation area — which is mostly farmland and about 20 residences — will be sprayed with two applications of a mating disruption pheromone and three applications of entomopathogen bacteria.
"The pheromone confuses the males so they can't find a female," Worth said.
The first pheromone treatment on June 21 will be followed by three once-a-week treatment of bacteria that infects larvae in July.
Applications will be made by airplane. Both products are formulated for compliance with organic production standards, according to ODA. Notices were sent to homes in and within a quarter mile of the application zone, which included homes on the south side of Independence.
A final application of the pheromone will be in mid-August. After that, ODA will monitor the site to see if further treatment is necessary.
Residents in the area should expect to see and hear a low-flying plane starting in the early morning of June 21.
"It will probably be loud, unfortunately," Worth said.